Chinese New Year (CNY), the biggest and most important holiday in Chinese culture, is traditionally celebrated with family reunions, friend gatherings, fireworks, new year films, shopping and tourism. However, this year is unusual due to the Wuhan Novel Coronavius. To stem the spread of the coronavirus, massive efforts has been taken to temporarily suspend tour groups, certain transportations and public facilities such as amusement parks, museums and theatres. The government has also announced extension of the holiday period in attempt to reduce people's movement. The entire nation is in a battle mode against the outbreak: Most cancelled gatherings with relatives and friends, many did not make the trip to hometown but used WeChat video call to send greetings instead, and I started writing this article staring at the empty streets in downtown Shanghai where it was used to be packed with tourists. So what do people do staying at home for two weeks?
Thanks to technology, we saw an unconventional yet "lively" CNY holiday online –
· Digital Red Packets: Giving/receiving red packet is a Chinese tradition that wishes one good fortune in the new year. Digital Red Packet is not news to most Chinese, Tencent started the tradition of having users shake their phones at specific moments during the 2015 National Spring Festival Gala to collect digital red envelopes. Tencent spent about RMB 50 million to sponsor the gala but garnered more than 200 million users in return and since made WeChat a super-app. The national gala has over 1 billion viewers, and the red packet sponsoring is seen as a huge opportunity to acquire users. This year, short-video platform Kuaishou and Alibaba's Taobao both said to give away RMB 1 billion in digital red envelopes all via mobile.
Figure 1: Digital Red Packets and "Cloud" Greetings

· Gaming: For youngsters, online gaming is the best alternative to "kill time". Unofficial statistics estimated the daily average users for the top 2 downloaded games reaching 120 to 150 million for Honor of Kings (Chinese: 王者荣耀) and 80 to 100 million for PUBG Mobile (Chinese: 和平精英), respectively. Both games are from Chinese tech giant Tencent, and the estimated daily cash inflow could potentially reach RMB 2 to 3 billion. Apart from the popular mobile games, social games also hit the top league of app store downloads. Many, myself included, gathered friends to play interactive online social deduction games such as Werewolf as in-person gatherings got cancelled. The social elements of these online games allow friends to chat and game at the same time for a few hours, as if we are gathering around a dining table. The most popular online Werewolf platform include NetEase's (网易官方狼人杀) and Tencent's (饭局狼人杀). Both of these and Wanba (Chinese: 玩吧), a multi-game social platform that made #1 on China iOS games download leaderboard, had reached their peak server capacity and had to have temporary breakdowns during the holiday period according to posts from Weibo.
Figure 2: Video streaming and Social Gaming

· Online Streaming: The CNY holiday period is typically prime season for moviegoers, hence the closures of public facilities would likely result in a heavy blow to local theatres and movie production houses, yet it could turn out to be good deal for some tech platforms in the streaming and video business. The hotly anticipated new year film Lost in Russia made an online-exclusive premiere on Douyin (the Chinese version of TikTok) thanks to ByteDance. Other video and streaming platforms like Tencent Video, iQIYI, Mango TV and Bilibili also became top alternative home entertainment for many households, especially as these apps are often pre-installed in the Smart TV such as Xiaomi's. In addition, many of these video platforms including the official CCTV platform created specific channels that constantly reports live news and live streams progress on the frontline battle against the coronavirus.
Figure 3: Live Streaming of Hospital Construction Process: 17 million online viewers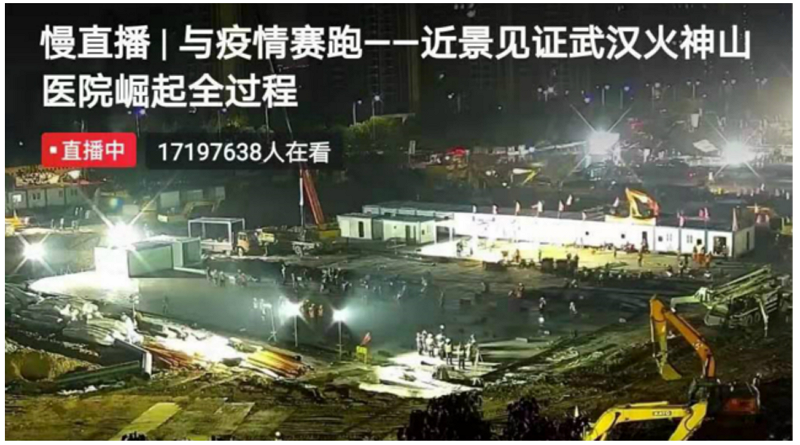 · E-commerce: the online shopping platforms did not add as much "entertainment" as the video and gaming platforms, but it's worth highlighting that the efficiency and accessibility of e-commerce absolutely contributed to the society's overall productivity and convenience throughout this special period. First masks and hygiene products for protection, then food and staples for the lengthened holiday period, E-commerce platforms like Taobao, JD.com and Pinduoduo made efficient local, regional and national resource supply and allocations possible while also reducing people going out or crowds at local stores. JD.com, in particular, leveraged its strong logistic capabilities to support same-day delivery of food, fresh vegetables and fruits across almost 300 cities in China during the holiday period.
Premia Asia Innovative Technology is proud to hold not only these leading technology firms that provided people comfort, entertainment and convenience in this unusual new year, but also leading healthcare and biotech companies that are at the forefront fighting against the virus as well as those in factory automation and public security that allows more efficient response to the outbreak vs. the SARS epidemic in 2003.

It is unfortunate that the dominant story this Chinese New Year has been the coronavirus epidemic that the usual mood of festival celebration is replaced with concerns about domestic health issues and global economic outlook. But on the bright side, it is consoling to see that technology and technology-enabled innovation leaders has become an irreplaceable backbone of the society, empowering connectivity, efficiency and productivity.
Figure 4: Tencent Cloud Conferencing & Premia Cloud-based Webinar x MX Global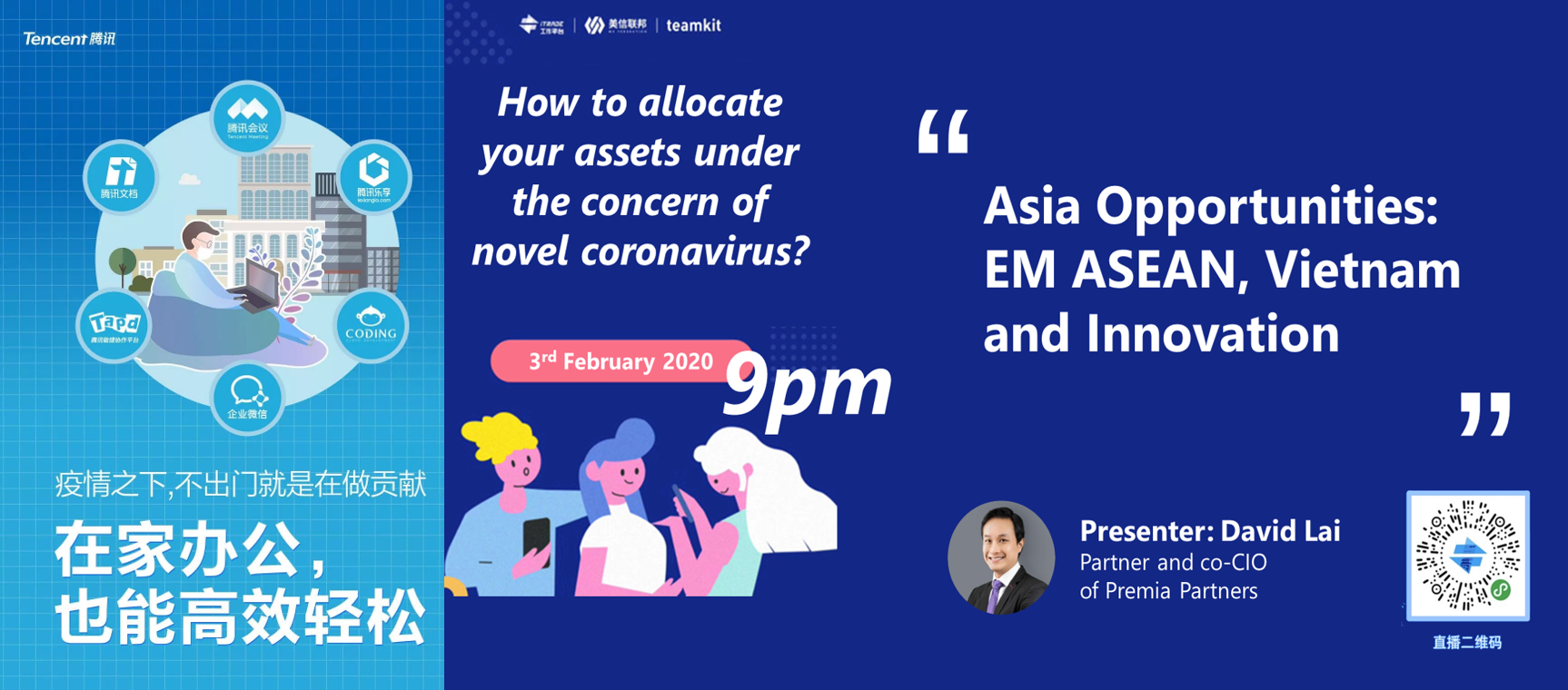 Lastly, thanks to cloud technology, collaborative group activities from work to education are moving from offline to online as well. I am finishing this write-up while working remotely from home and will be audio conferencing with the team shortly about an ETF webinar that our co-CIO David Lai will conduct via an online platform this week. Hope all gets well soon!