With China granting 5G licenses for commercial use ahead of planned schedule, the 5G concept has once again arisen to news headlines. The Global Mobile Communication Systems Association estimates that by the end of this year, 5G services will be available in 29 markets around the world, with 10 million connections. More importantly, 5G has become a hot topic for its potential impact across industry applications. Some might think this is merely another "G" on the cell phone signal mark, others have long started looking for investment opportunities into beneficiaries of this significant technology upgrade. In this piece, we seek to demystify 5G and explore the major beneficiaries to the lion's share of growth in IoT and related industries in Asia.
What is 5G?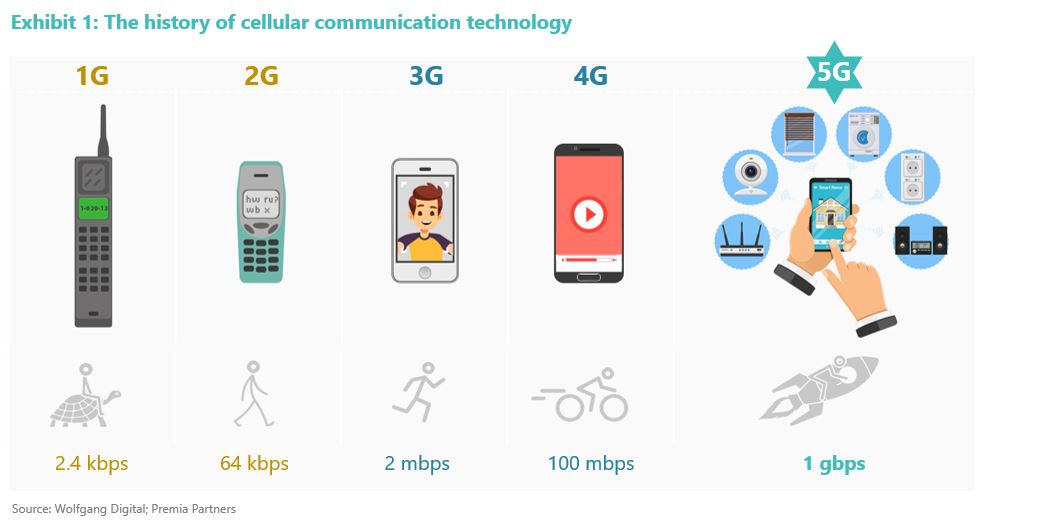 Let's take a brief look at history before gazing into the future: 1G was about mobile phone, allowing people to make calls on the go without a landline. 2G moved this technology from analogue to digital. 3G was the cornerstone of smartphone, while 4G increased speed by 10x and enabled further functionality of smartphones and tablets. As before, every second G has been transformative, and everything changes with 5G as it's no longer about phones, but any connected devices.

5G will be evolutionary in enabling mobile devices to handle more data, and it will be revolutionary in enabling a massive IoT ecosystem. Through a combination of faster speeds, larger bandwidth and low latency, 5G will allow more effective management of the ever-increasing quantities of information produced by internet of things and enable near-instantaneous communications.
Such improvement in network infrastructure will empower waves of new products and services in robotics, public safety, autonomous driving, virtual reality, cloud gaming, smart home, healthcare and more.
Who are the 5G beneficiaries?
Apart from the telecom players and those in its direct supply chain that builds the 5G network infrastructure, we expect proliferation of connected devices in both consumer and industrial settings, from gaming, factory automation, to healthcare and public safety.
To shed light on 5G-enpowered activities, we identify a few major beneficiary sectors and some example companies.
Factory Automation: 5G offers benefits of better latency, efficiency, and security, which allows scalable, effective deployment of massive IoT and efficient flow management and remote supervision. With commercialization of 5G, automated factories may soon equip cloud robotics and mission-critical, real-time control systems.

Public Safety: Similar to its application in mission critical IoT in factory automation, 5G is also likely a key enabler for surveillance players with the low latency advantage as well as additional benefit of lower risk of network interference in a self-contained, secure network. We also expect to see an increase in AI applications for enterprises and government driven by 5G.

Augmented and virtual reality (AR/VR): AR/VR has created a brand-new digital environment with applications from manufacturing to medical services. Consumer gaming, which has a large penetration in the Asian population, has also seen increasing integration of AR/VR technology to enhance gamer experience. 5G can be a critical enabler for these latency-sensitive and heavy bandwidth use cases.

Healthcare: Healthcare is an industry that has been benefiting immensely from technology advancement, and the industry is ever-growing in Asia due to the large aging population. Use cases of 5G in healthcare can range from wearables to surgical robots, all would benefit from larger computing power, and faster response times.
Those familiar with our Asia Innovative Technology strategy would have realized that all 4 above-mentioned sectors are among the innovative investment themes we identified together with FactSet. A glance into the holdings of our Premia Asia Innovative Technology ETF (3181 HK) would reveal a handful innovation leaders that would be 5G beneficiaries:
Semiconductor and passive components: TSMC, Murata, SK Hynix

Factory Automation: KEYENCE, FANUC, NIDEC

Public Safety: iFLYTEK, Hikvision

AR/VR & Gaming: Sony, Nintendo, Samsung, Tencent

Healthcare: OMRON, iFLYTEK

Cloud computing: Alibaba, Naver
Being a pan-Asia strategy, the Premia Asia Innovative Technology ETF provides access to leading innovators not only in mainland China but also in South Korea, Japan, and Taiwan, all of which are markets at the forefront of 5G adoption with Korea already having launched world's first 5G network last month.

To learn more about the strategy and full holdings list, please refer to the fund page. The ETF will soon have its scheduled rebalancing and will expect new entrants such as Pingduoduo and Xiaomi.
Related articles:
Targeting Asian Growth Through Innovation
Technology-enabled innovations: Reshaping Asia growth
Nasdaq vs Asia Innovative Tech – what you need to know about innovation in Asia