One camp is excited about this brand-new technology and the investment opportunities coming along with it, while another camp is adopting a rather lukewarm attitude and wondering if it is simply a gentle migration from the current 4G regime, ending up a short-term capex boost from carriers only. We would like to share our understanding and what kinds of investment opportunities are available in Asia.
To be precise, 5G is comprised of a few technology projects in both communications and data center architecture, which yield benefits for telecom operators in the area of spectral efficiency, energy efficiency and utilization. From users' perspectives, 5G is the fifth generation of the mobile internet and provides a much faster connection speed which can be 10 to 20 times faster than 4G. One may argue that the current speed is quite satisfactory and faster pace is not necessary. The one who said that may simply not realize what he/she doesn't know. Similar to Moore's Law stating the number of transistors that can be fit on a computer chip doubling every 18 months, global mobile data traffic is actually increasing at the same pace. Sooner than later, the current existing spectrum will be exhausted and lead to potential breakdown in service. The upgrade of 5G would provide more capacity and allow more devices to be connected simultaneously.
Hans Vestberg, CEO of Verizon, explains 5G in a more straight-forward way by saying "So what is 5G? 5G is a promise of so much more than we have ever seen in any wireless technology. From the beginning, we had the 1G, the 2G, the 3G and the 4G. They were sort of leaps of differences, when it comes to speed and throughput. When we think about 5G, we think about 10 gigabits per second throughput, we talk about 10x battery life, we think about 1000 times more data volumes in the networks. It's just radically different. I would say it's a quantum leap compared to 4G." IHS Markit expects that 5G will act as a catalyst that turns mobile into a robust and pervasive platform that fosters the emergence of new business models around the globe. For example, medical services could be delivered in a very different way going forward as connectivity at 5G levels enables caregivers in rural and remote areas to receive real-time instruction and support from the finest surgeons in the world, wherever they may be located. Though it may still sound like a science fiction, tele-presence or tele-surgery is becoming real. Indeed, China just carried out the world's first 5G remote surgery, inserting a stimulation device in the brain of a Parkinson's patient in Beijing from the doctors nearly 1,900 miles away in Hainan.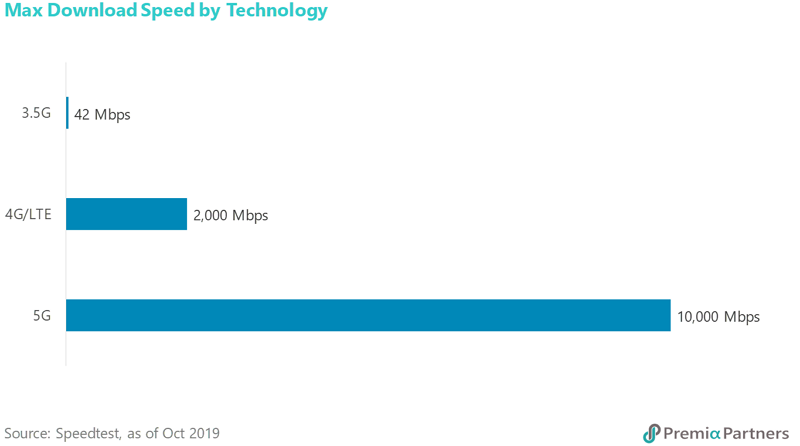 Even though 5G has a much faster connection speed, the connected devices may generate data in an even much higher rate. Intel estimated that an autonomous car would generate 4 terabytes of data in an hour and a half of driving. In the near future, all smart home devices such as kitchen appliances, climate control systems and health monitors will all be connected and communicated with each other. IDC forecasts that the data generated by Internet of Things (IOT) will increase by almost 5 times from 2018 to 2025. To reduce the amount of data transmission, scientists came up with a solution called Edge Computing which processes the data near where they are generated, instead of sending them back and forth between servers and devices. Edge Computing requires the local devices to have chips powerful enough to carry out artificial intelligence computing. As such, the growth in IOT boosts the demands for chips and promotes the development of application-specific integrated circuits (ASIC), benefiting the growth in the supply chain.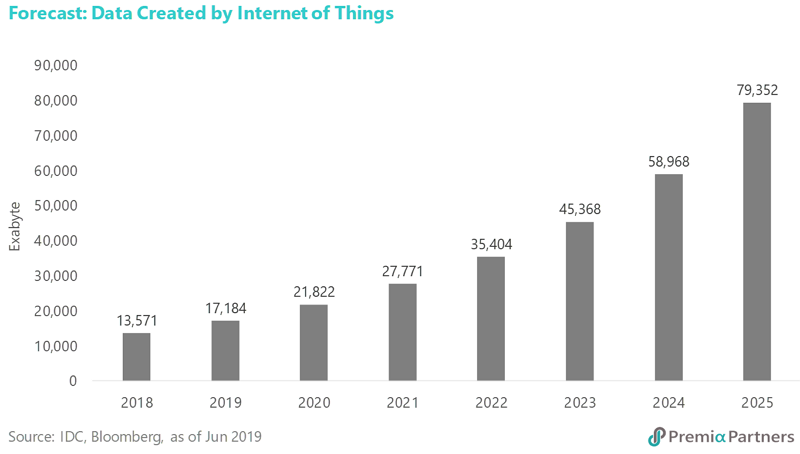 Apart from speed and capacity, 5G also brings down latency from an average of 50 milliseconds (ms) at 4G era to the minimum 1 ms in future. As a matter of fact, it takes at least 10 ms for an image seen by the human eye to be processed by the brain. With higher connectivity speed and lower latency, 5G will transform some industries out of our imagination. One of them would be the gaming industry because "online gaming requires low latency and fast speeds for an optimal user experience" as stated by IHS Markit. 5G would shift the gaming industry to more cloud-based and complex games to enhance players' experience. Currently Virtual Reality (VR) and Augment Reality (AR) gaming remains at infant stage as the user experiment in wearing the bulky headsets is poor. With 5G equipped, the heavy gears can be substituted by the lighter ones as contents can easily be streamed from cloud instead of connected to a console.
While there is excitement around some of the early network launches in markets such as South Korea, the US, the UK and United Arab Emirates, the global 5G market will really accelerate over the next two years as more smartphone manufactures bring 5G capable devices to the market. 5G services cannot go mainstream without providing sufficient choices for customers to choose. While Samsung and several other android handset manufacturers are planning to release their first 5G handsets this year, Apple is in no rush to adopt the new technology. The latter is preparing to bring 5G to its premium iPhones only in late 2020 and wait until 2021 before moving its entire iPhone line-up to the new standard. Ericsson Mobility Report forecasts that Global 5G smartphone subscriptions will reach 11 million by the end of this year and 72 million by the end of 2020. Then the worldwide 5G population will go up to 1,793 million by the end of 2024 with Asia Pacific driving the 5G adoption throughout the period, in which China, Japan, Korea and India will play a major role. GlobalData expects annual mobile 5G service revenue to reach ~USD 300 billion by 2024, and Asia Pacific will again be the largest overall contributor to mobile 5G service revenue with USD 122 billion, followed by North America's USD 110 billion.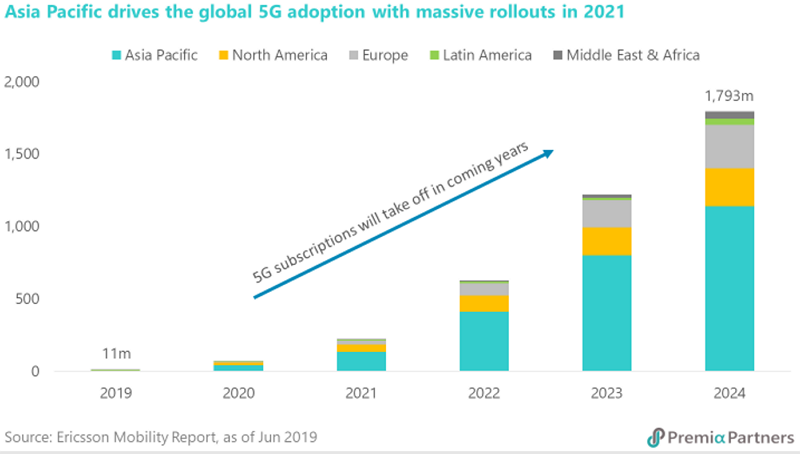 5G is a broad theme and investors must further break it down into investable ideas. If one is enthusiastic about 5G and the opportunities in Asia, then the most direct way is to bet on a few conviction picks among these areas by doing research on individual stocks. What if the investors don't have such convictions, but still want to participate in these themes and more importantly do not want to make a wrong bet and miss the biggest trend? Is there an ETF which can fulfil all these demands? Premia Asia Innovative Technology ETF (AIT) could be a potential candidate as AIT is holding some potential winners in the era of 5G. Let's list out a few names here for illustration.
Taiwan Semiconductor Manufacturing Company (2330 TT)
TSMC is world's largest semiconductor foundry which produces integrated circuits that are used in 5G smartphones and related equipment with customers including Apple, Qualcomm, Nvidia, etc. It has a global market share of 49% and ~80% of the high-end market. In its latest 3Q announcement, the growth rates of revenue were driven by smartphone, IOT, and automotive related chipsets. The company has just revised up the assumption of 5G smartphone's penetration rate from single digit to double digit next year globally and also raised its capital expenditure forecast to USD 15 billion, nearly 40% higher than its previous estimate. The high demand in computational power in IOT and self-driving would further boost the growth in longer term.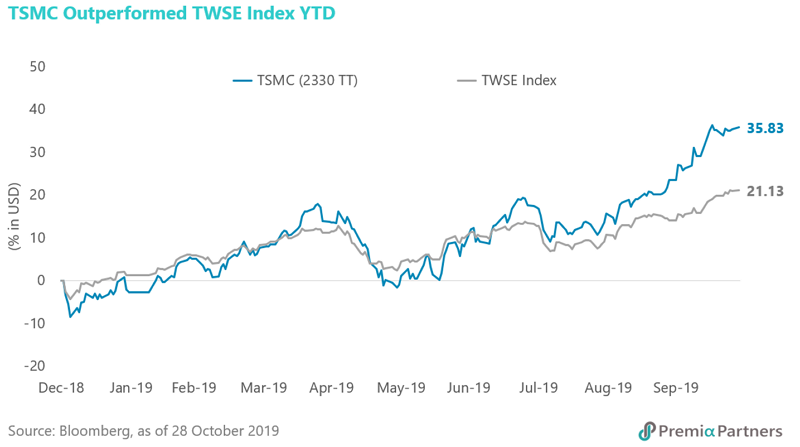 Samsung Electronics (005930 KS)
Samsung manufactures a wide range of consumer and industrial electronic equipment and products. The two segments which can ride on 5G trend are the mobile phone devices (~37% of the revenue) and the memory semiconductor (~32%). Samsung has recently launched Galaxy Fold, a foldable 5G smartphone priced at USD 2,000. Market is now expecting a number of different foldable-phones and dual-screen phones coming to the stage. These new phones target to enhance users experience on high-resolution video and gaming. No matter which design will finally be the major standard, Samsung will still be benefitting from the wave of phone upgrades as it is also a major player in DRAM and NAND which are the core components for any smartphone.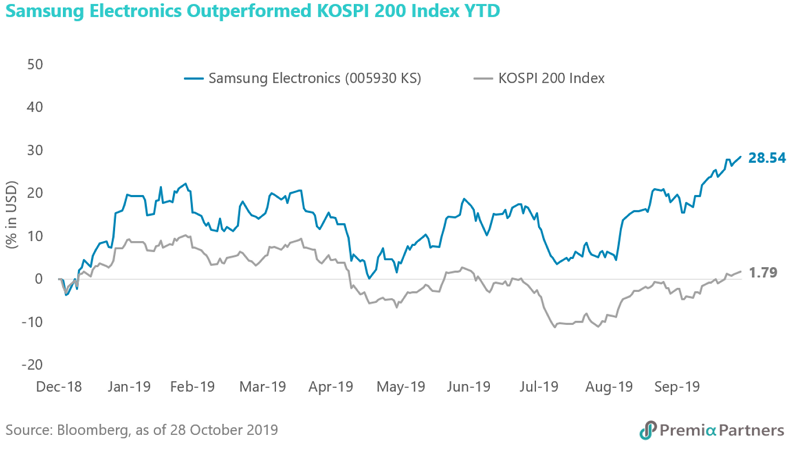 Sony (6758 JP)
Sony is not only a hardware manufacturer, such as TVs, smartphones and gaming consoles, but also a content provider. As the smartphones are upgrading from two cameras to three cameras as shown by the latest flagship models, Sony will benefit from a higher demand of its image sensors, in which the company has a global market share of ~50%, followed by Samsung. Sony's more long-term growth may be driven by its content business instead. Currently, 16.5% of its revenue is produced by online games & content whilst 8.3% is generated by video production. Should the development of 5G enhance the customer experience in VR and AR, Sony is in a good position to be the market leader with its dominant market share in gaming console and software.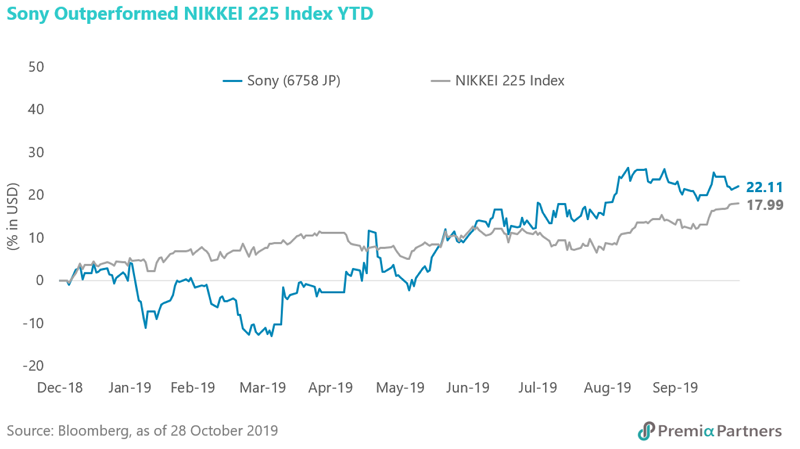 Up till now, one may ask why and how AIT would pick those companies related to 5G. Some of you may recall that AIT is tracking "Premia Factset Asia Innovative Technology Index" which is designed to measure the performance of Asian companies engaged in emerging and disruptive technologies, products, and markets. Technically speaking, the index does not pick these 5G stocks individually, but they get included into the basket because of their innovative technologies falling into one of our key focuses in digital transformation. Besides the exposure in technology, the index will also pick innovative companies from Consumer, Finance, Industrials and HealthCare. As of 28 October 2019, the 5G hardware related companies and the gaming related companies had a weighting of around 29% and 9% in the index, respectively.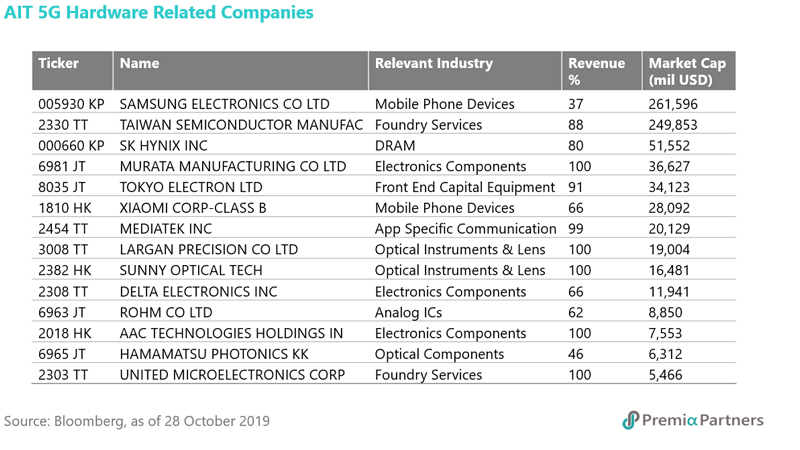 In order to be the final constituents in the index, the companies need to have:
· 3-Year Average Annual R&D Expense-to-Revenue ratio above 5%, or 1-Year Revenue Growth Forecast above 10%,
· And be the largest 50 companies in terms of market capitalization.
All these measures ensure the companies can convert innovative ideas into revenue and re-invest to retain their market leadership.
The development of 5G will promote some new industries which are beyond our imagination right now. Even if those emerging trends are not picked up by the market yet, AIT's index methodology is designed to accommodate these fast-pace changes. In theory, if certain themes continue to develop, those companies related to the themes should grow in market capitalization and eventually be significant enough to be included in the index. Through these changes in market capitalization, the index adjustments help investor to allocate more resources to the promising investment themes. If you would like to participate in the 5G investment themes but do not know which one to invest, why not have a peace of mind and buy the ETF which can help you gain exposure in this ever-evolving investment landscape?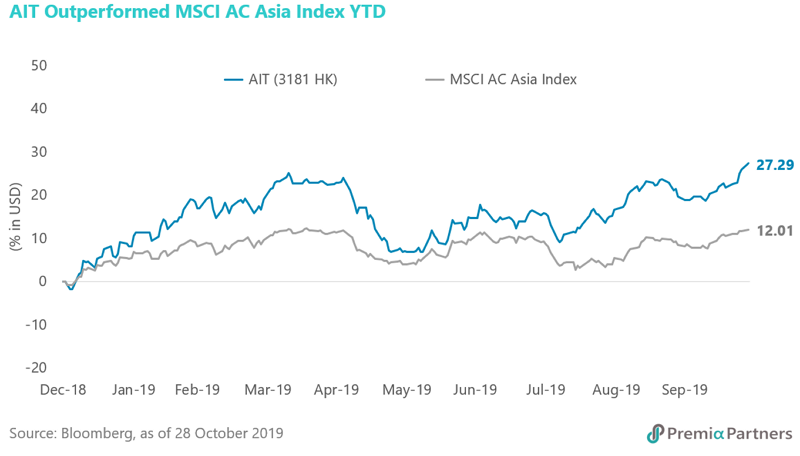 Related Premia ETF ticker:
Premia Asia Innovative Technology ETF – 3181.HK/9181.HK