China installed almost as many robots in its factories per year in 2021 as the rest of the world combined, as it accelerated its efforts to automate and consolidate its position in global manufacturing despite supply-chain disruptions.
Driven primarily by automotive and 3C electronics—so-called "computers, communications and consumer electronics" – China has been expanding automation across fields such as solar, medical and construction. Encouraged by national strategic goals for China to become a high-end manufacturing hub, low-end assembly lines have pushed up the value chain towards activities that require more precision and sophistication.
International names such as robotic giants ABB and KUKA and Tesla have set up mega facilities in China turning out robots and automobiles at stunning speeds.
Yet beyond that, China's huge domestic market for industrial automation – coupled with a steady stream of government initiatives supporting the development of homegrown capabilities – have given Chinese companies in this sector a big leg-up in their narrowing of the competitive gap vis-a-vis the Big Four in industrial robotics. China is both the world's largest market for industrial robots and equipment and the world's largest manufacturer of robots. This double "global #1" position is creating tremendous opportunities for companies across the entire supply chain for this sector.
Think companies such as Midea Group which acquired Germany's KUKA, and last year took it private. Think Shenzhen Inovance Tech which is offering products that are of equal quality to its international peers such as Yaskawa and Siemens but at a discount. Or Estun Automation, which is now competing against the Big Four in the large six-axis robot segment and expanding quickly in international markets through mergers and acquisitions in the United Kingdom, Germany, Italy and the U.S. Or Zhejiang Supcon Technology which has rapidly expanded into Singapore, Saudi Arabia, Malaysia and Indonesia. Or Beijing Roborock, an intelligent cleaning robot and intelligent appliances provider, which was ranked third in the global market in its segment and second in the European market, second only to iRobot5.
How China has become a global powerhouse in industrial automation. As both the largest consumer and manufacturer of robots, China has attracted many top global robot manufacturers to establish factories in China, driving localisation of the supply chain.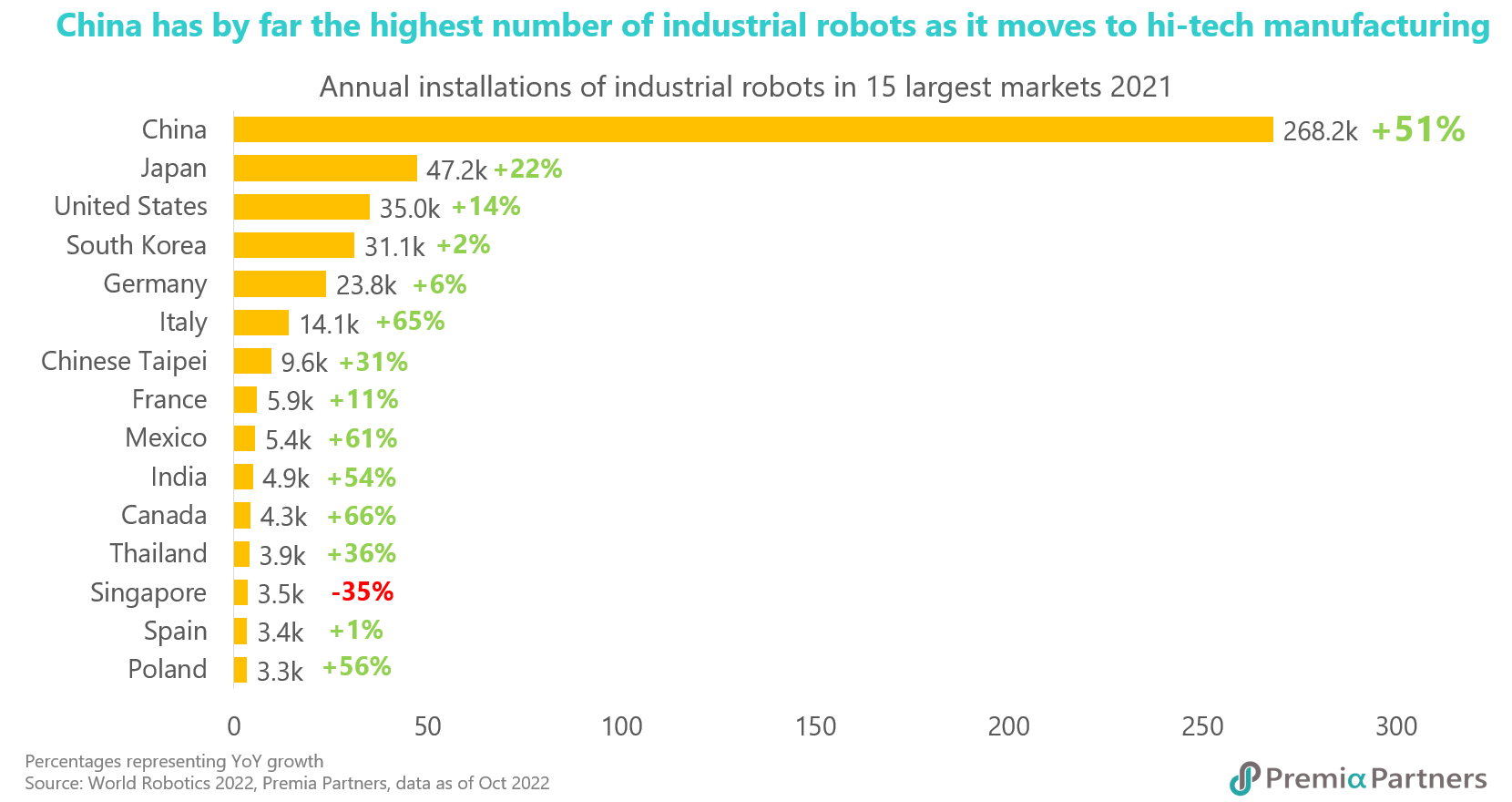 ABB Group, one of the world's four biggest industrial robot players (with the others being KUKA, FANUC, and Yaskawa), opened its fully automated robotics mega factory in Shanghai last December. This is the culmination of three decades of rapid expansion of its activities in China. This has spillover benefits for other manufacturers in China. According to the company, the equivalent of over 90% of its sales is sourced from the local supply chain – via "locally-made products, solutions and services." 1
According to the ABB Robotics Division, the company has replaced all traditional, fixed assembly lines with flexible digital modulars empowered by AI to cope with the dynamic demands of the world's largest robotics market. Surging demand for automation in China comes mainly from new segments such as New Energy Vehicle manufacturing, wearable electronics, restaurants, healthcare, e-commerce, retail and service robotics.
KUKA, acquired by the Midea Group, launched its new unmanned manufacturing technology park in Foshan, Guangdong province, where the robot assembly line has achieved full automation and is able to produce a robot in as little as 30 minutes2, or something like 40 robots a day. The company has successfully tapped into the Asian and North American markets by leading automation solutions for Industry 4.0, or the so-called Fourth Industrial Revolution. Apart from well-established lines for auto, electronics and metals, its spotlight medical robots can collect blood, perform hip and spine replacement surgeries, and even operate on a brain tumor or repair a heart valve with just a one-armed robot. This is the stuff of movies turned reality.
Tesla's Shanghai Gigafactory started operations in 2019 and has already broken its own annual production record of 1 million cars within 3 years. In fact, the Tesla Shanghai Gigafactory contributed to over 50% of Tesla's global sales in 2022 notwithstanding the pandemic and supply chain challenges and has been supplying not just for the domestic market in China but also exporting to many of Tesla's international markets. Meanwhile, it also contributed to around 25% of Shanghai's total auto production. With localisation of core components, over 95% of Tesla's supply chain needs can now be satisfied domestically. By the way, the whole assembly line only takes 45 seconds to roll off an iconic model3.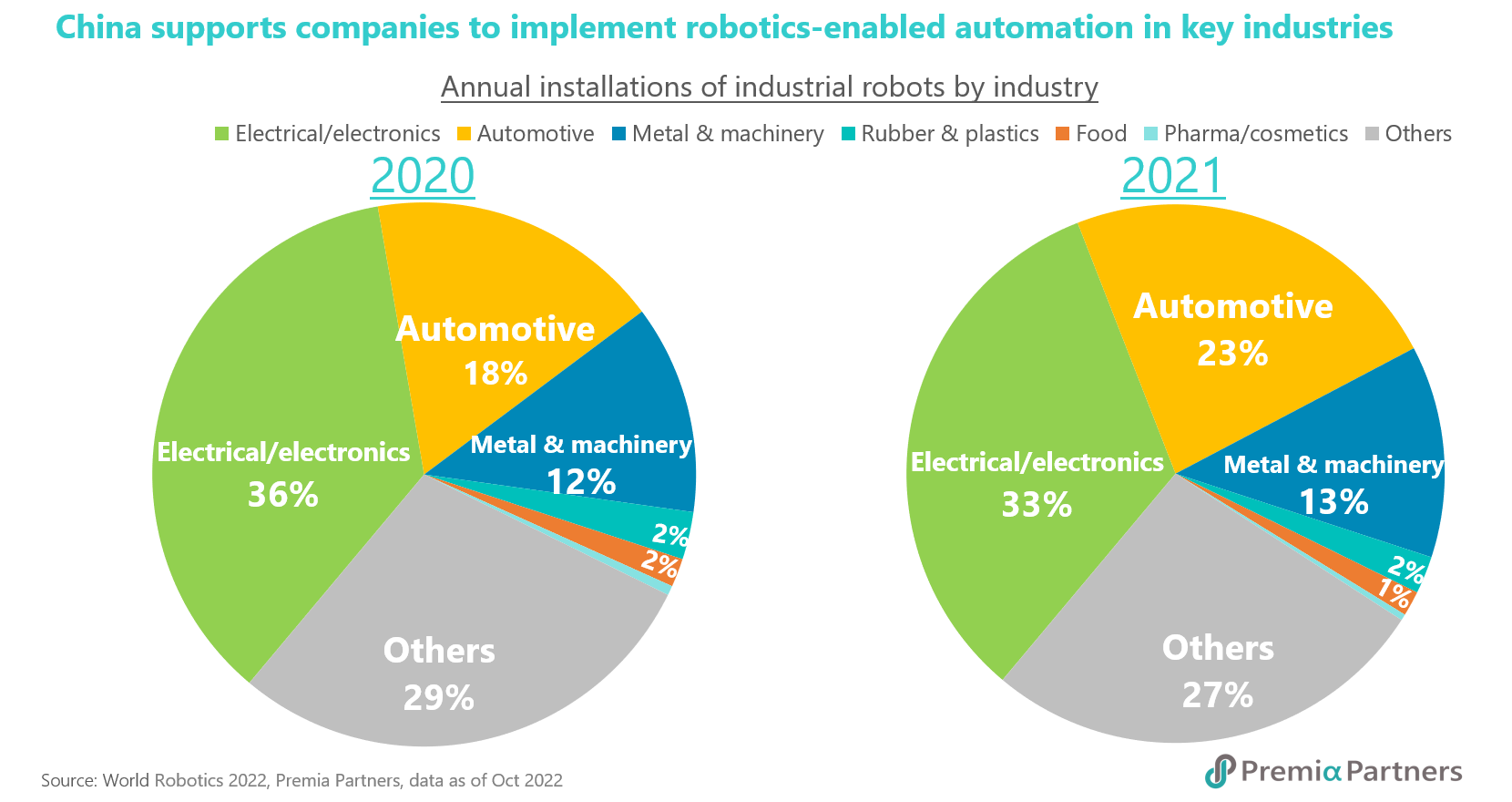 China's position as world's #1 maker and #1 user of industrial robots has created critical mass and a supportive ecosystem for rapid development of its own homegrown "champions" in this sector.
Although the industrial automation industry has long been dominated by global giants such as ABB, Fanuc, Yaskawa, Keyence, Schneider and KUKA, it has to be noted that China is the world's largest market for industrial robots and equipment by a large margin. Statista estimated that China accounted for US$6.6 billion in sales of industrial robotics. The next largest market was Germany with a much smaller figure of US$2 billion in sales. This critical mass of demand for industrial automation offers great opportunities for the development of domestic capabilities. As part of its strategic goal to move from low-end original equipment manufacturing and original design manufacturing (OEM/ODM) to high-end, technology-driven manufacturing, China enjoys the advantage of huge domestic demand to develop its own technology ecosystem that best suits its needs. This can range from catering to specific use cases to development of home-grown technology and intellectual property. Through this process, China can continue to enhance productivity, scalability and overall competitiveness. Since supply chain disruptions have made it harder for Chinese companies to access foreign products, corporations increasingly realise the importance of developing their own capabilities in strategic technologies.
Indeed, domestic players have been doing well in automotive, electronics and metal processing for about a decade now. Rapid growth in the lithium battery and solar construction industries has been a key driver in the last few years. In 2021, demand for industrial robots in the lithium battery industry rose by 131%, warehouse logistics by 103%, and photovoltaic industries by 51%4.
Shenzhen Inovance Tech has successfully expanded its market share in servo systems, inverters, small PLC, and SCARA robots – upstream and midstream segments that have historically been dominated by Japanese and European manufacturers. Leveraging its ability to produce some core components in-house, the company can exercise cost control and offer products that are of equal quality to its international peers like Yaskawa and Siemens but at a meaningful discount.
Estun Automation has been rapidly narrowing the gap against its competitors in hardware manufacturing, welding and software design, spanning upstream key components to midstream control systems. The company has been benefitted from government policies which encouraged the development of, and self reliance in, strategically important industries. The company is now competing against the Big Four in the large six-axis robot segment and is expanding quickly in international markets through several mergers and acquisitions in the United Kingdom, Germany, Italy and the U.S..
To break the bottleneck in industrial control systems during the pandemic, Zhejiang Supcon Technology has been striving to transform from a traditional automation supplier to an integrated smart manufacturing solution provider. It has ventured beyond traditional dominance in petrochemicals and chemicals to rapidly growing sectors such as lithium batteries and renewable energy. The bold moves have turned out to be rewarding, given booming NEV demand both domestically and overseas. Through in-house R&D and acquisition, the company has rapidly expanded into Singapore, Saudi Arabia, Malaysia and Indonesia.
As Chinese industrial robot companies continue to improve their competitiveness in the global market, service robot providers are also starting to make inroads abroad.
Beijing Roborock, an intelligent cleaning robot and intelligent appliances provider, ventured overseas in 2017. By the end of 2021, it ranked third in the global market and second in the European market, second only to iRobot5. Also, China's server robots have been making inroads into Japanese hospitals and hotels6, and Korean restaurants7.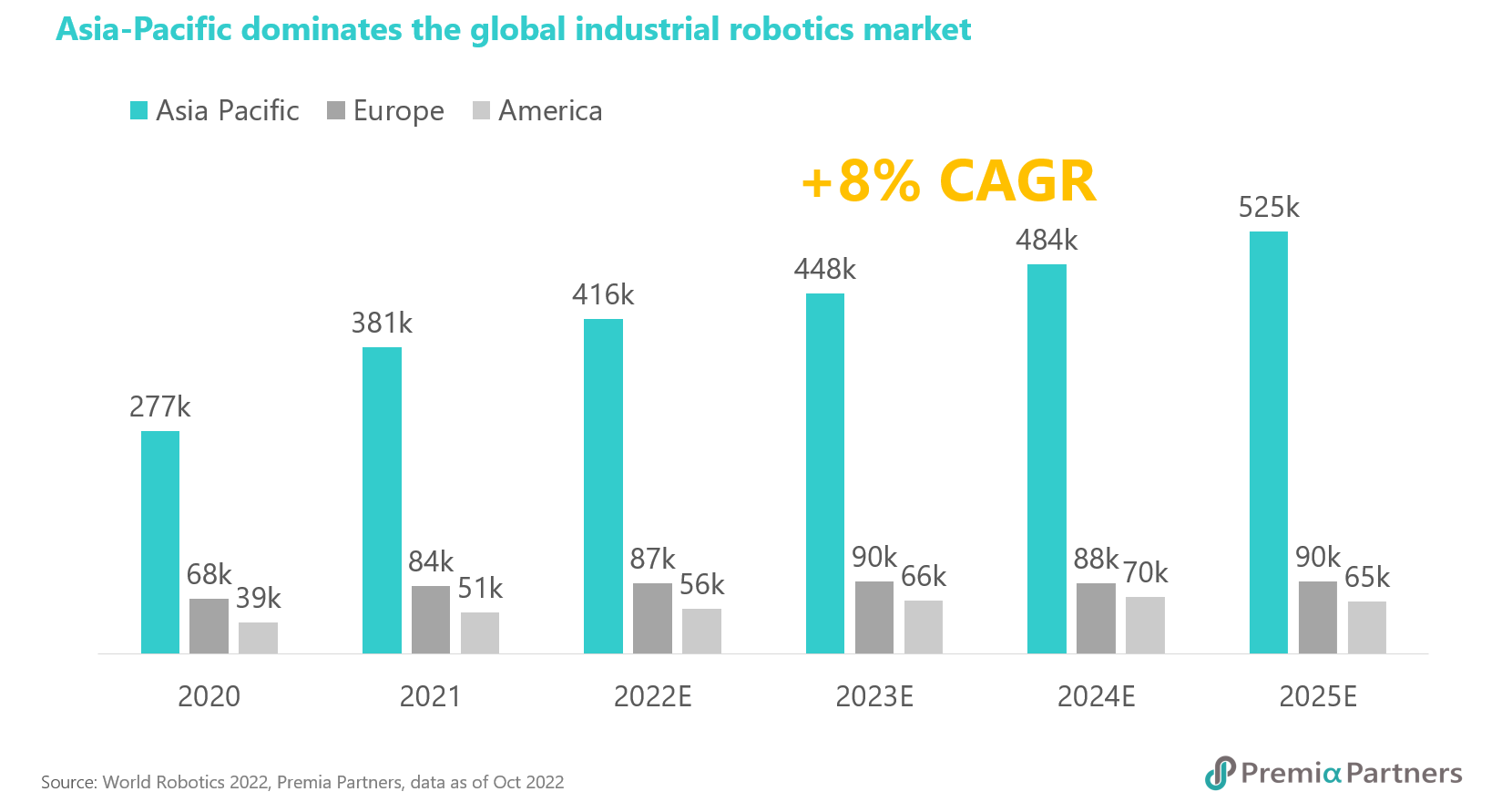 To become a high-end manufacturing hub, China has been rolling out measures to speed up industry integration, using industrial robots with AI to power and lift productivity throughout the entire ecosystem. Just as Germany has its "hidden champions" – little-known "mittlestand" SME companies with commanding shares in their niches, supporting the big-name, "national champions" – Chinese government policy has expanded from funding and encouraging large firms to nurturing a large pool of smaller, potential winners, and harnessing market forces to integrate these companies into a larger supply chain. In short, growing an ecosystem to create "champions", small, medium and big.
As of August 2023, The Ministry of Industry and Information Technology (MIIT) has identified more than 98,000 "Specialized SMEs" (专精特新中小企业) and over 12,000 "Little Giants" (小巨人) 8, referring to SMEs that not only specialise in pioneering core sci-tech innovation but that also have relatively high market shares and huge development potential. 273 of them are robotics names9. This initiative aims to parcel the Made in China 2025 strategy together with specialised funding, loans and subsidies. Under this initiative, SMEs are expected to fill gaps in the domestic supply and value chains of large corporates. Their role is to advance import-substitution as quickly as possible, through their specialisation, dynamism and flexibility.
Meanwhile, China released guidelines of its "Action Plan for Implementing the Robotics+ Applications" in January 202310 to accelerate the use of robotics in a range of sectors, including manufacturing, agriculture, logistics, energy, healthcare, education and aged care services. The plan also set out goals such as: 1) doubling manufacturing robot density by 2025, compared to 2020, 2) breakthroughs in at least 100+ robot applications in 10 nominated sectors, 3) setting up over 200 typical applications use cases to be benchmarked, and 4) building regional R&D and experience centers.
China's demographics is driving it up the manufacturing value chain, with government policy support focused on developing a high technology economy, following the trajectories of South Korea, Japan and the U.S.. Propelled by its changing demographics and its evolution from low-cost manufacturing to high-value added processes, China will continue to drive the development of a homegrown robotics sector and pursue manufacturing upgrade, following the trajectory of developed economies such as South Korea, Japan, and the U.S.. This aligns with China's 14th Five Year Plan which explicitly laid out the national strategic goal of building a modern high tech society. Sector leaders would be natural beneficiaries of support measures for this broad policy. It is also important to note that along with high tech processes and smart manufacturing systems, China is integrating new materials, new energy, smart grids and energy saving systems, etc. into most newly fitted smart factories to align with new policies and regulations towards China's 2060 net zero goals.
Investment opportunities should come with growth and valuation re-rating. The development journey will offer companies tremendous opportunities for growth. In the process we would expect investors to find value in these companies. Indeed, opportunities for valuation re-rating should emerge in this space. More bilateral dialogue and improved relations between China and the U.S. will also help.
Meanwhile, allocators may consider our Premia China STAR50 ETF (3151) which provides exposure for the AI chips and automation systems, and Premia CSI Caixin China New Economy ETF (3173). These are ETFs where industrial automation is one of the highest weighting sectors, along with automation equipment, robots, power generation, automation systems and chipmakers. They may also look at Premia CSI Caixin China Bedrock Economy ETF (2803), which covers the more established industrial automation equipment providers with value, low volatility, size and quality tilts. These would be great tools for portfolio completion and diversification compared to the typical active and cap-weighted strategies that are more internet and platform focused.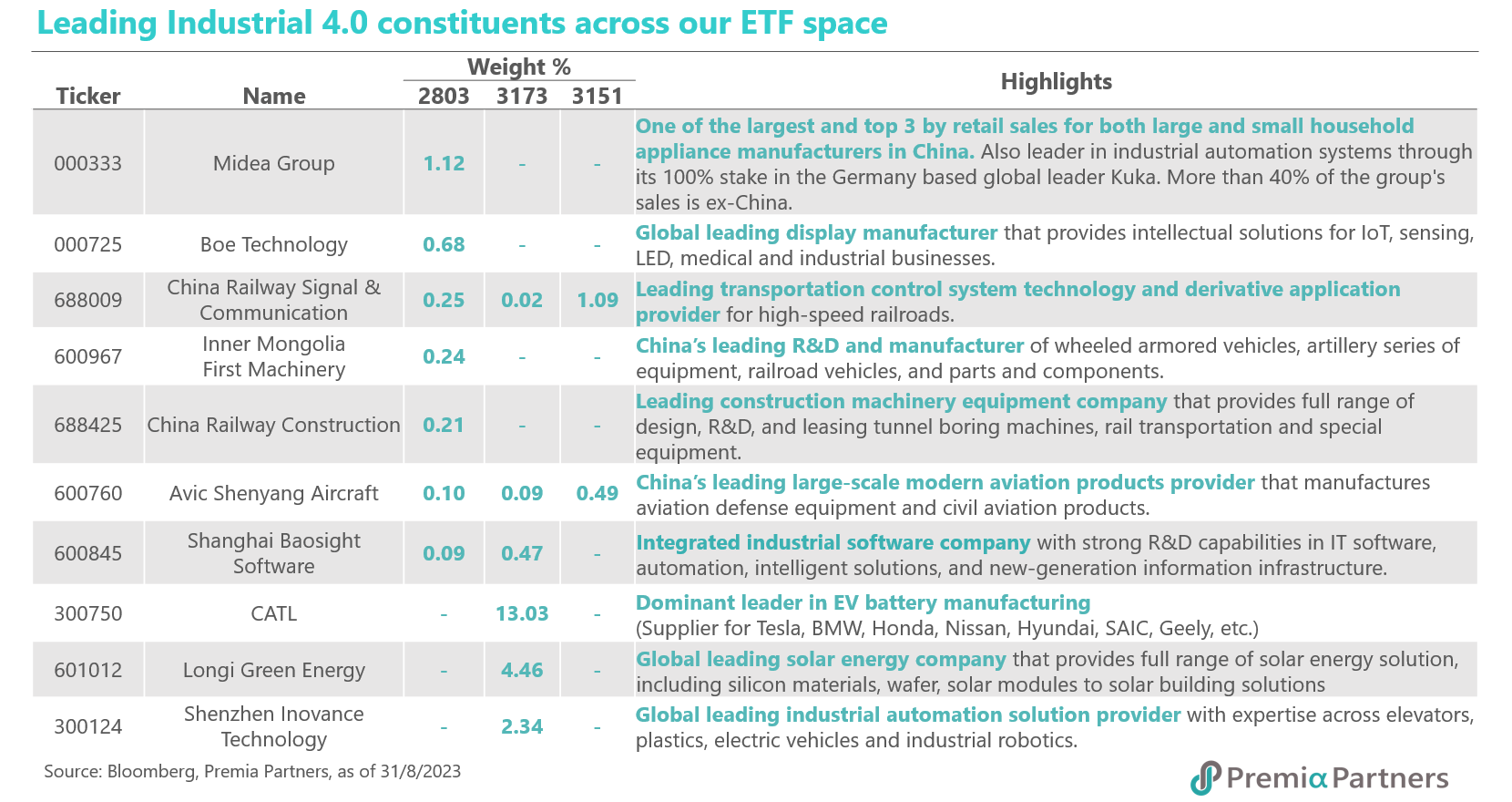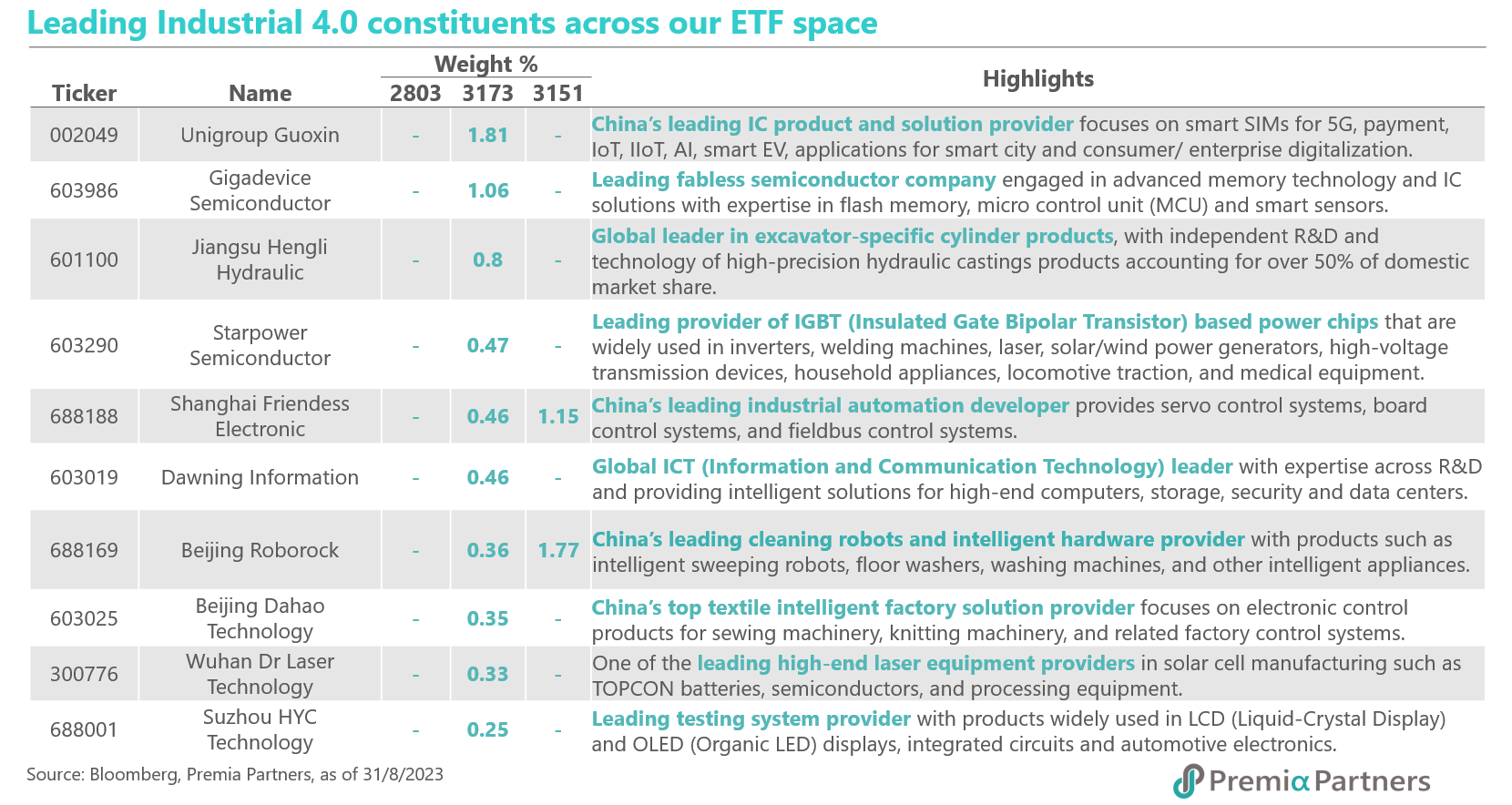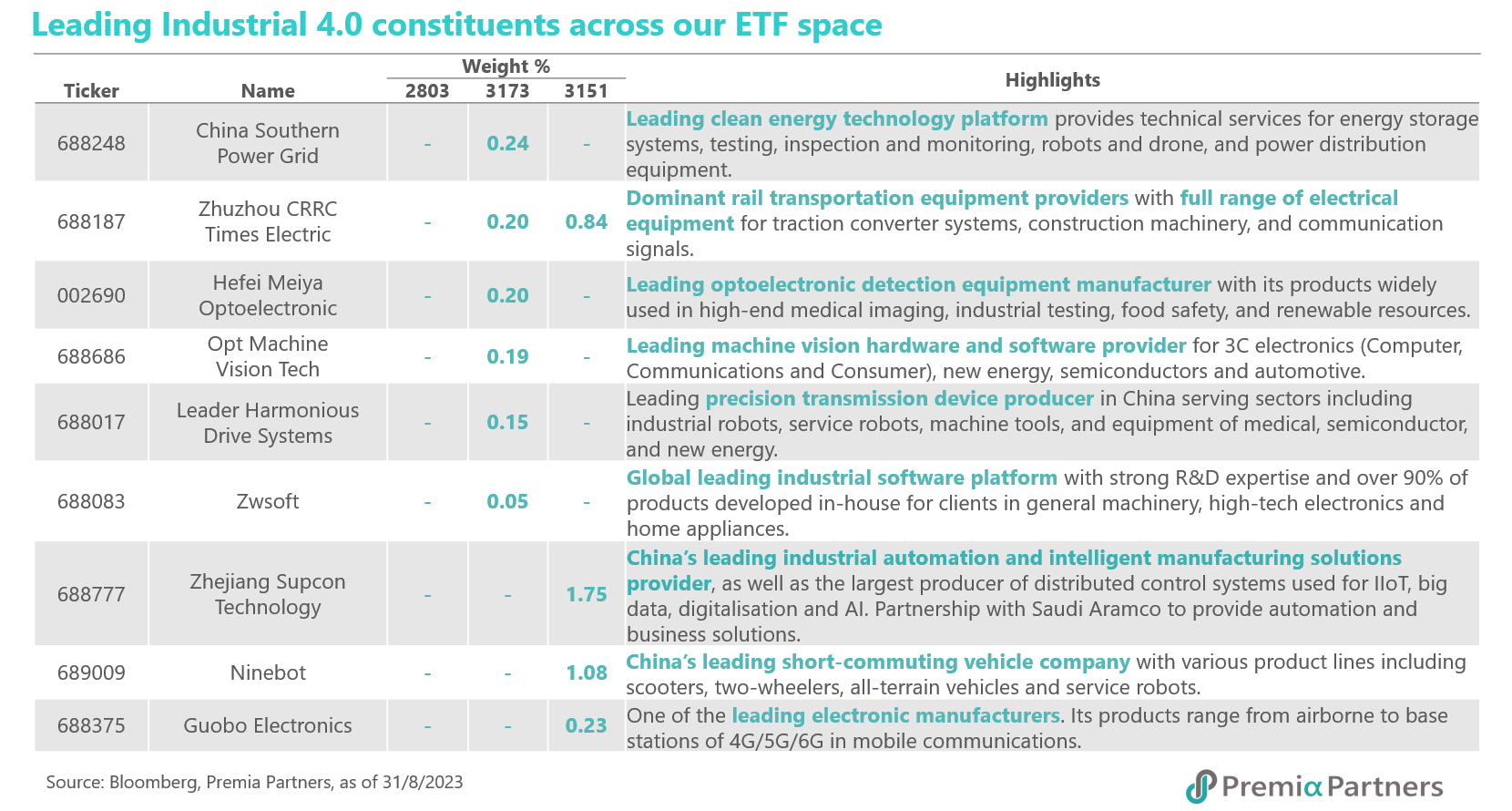 -------------------------------------------------------------------------------------------------------------------
1 Source: ABB press release, "ABB opens state-of-the-art robotics mega factory in Shanghai", 2 December 2022
2 Source: The people's government of Foshan Municipality, "KUKA Unveils Heavy-Duty Robot at 2023 World Robot Conference", 18 August 2023
3 Source: ECNS net, "Car rolls off assemblyline in 45 seconds at Tesla's Shanghai gigafactory", 14 May 2023
4 Source: Macquarie, "Why China is focused on a robotic future", 11 May 2022
5 Source: Statista, "Robotic vacuum cleaner market share worldwide from 2014 to 2020, by brand", August 2021
6 Source: Nikkei Asia, "China's Pudu to supply cleaning robots to Japan hotels, eateries", 28 July 2023
7 Source: Financial Times, "Chinese robot waiters fuel Korean anxiety over labour shortages", 27 August 2023
8 Source: Xinhuanet, "专精特新"小巨人"企业累计达1.2万家 有力助推高质量发展 (China has over 12,000 specialized and innovative Little Giants in push to high-quality development)", 6 August 2023
9 Source: State Council press, "我国工业机器人装机量占全球比重超50% 制造业机器人密度达到每万名工人392台 (China's industrial robots installation accounts for over 50% of the world's market with robot density reaching 392 per 10,000 workers)", 20 August 2023
10 Source: State Council press, "工业和信息化部等十七部门关于印发"机器人+"应用行动实施方案的通知 (MIIT and 17 departments issued action plan of Robot+ initiative)", 8 January 2023