Chart of the Week
---
Call open interest on US listed Chinese ETF surged to record high
Alex Chu

Director and Portfolio Manager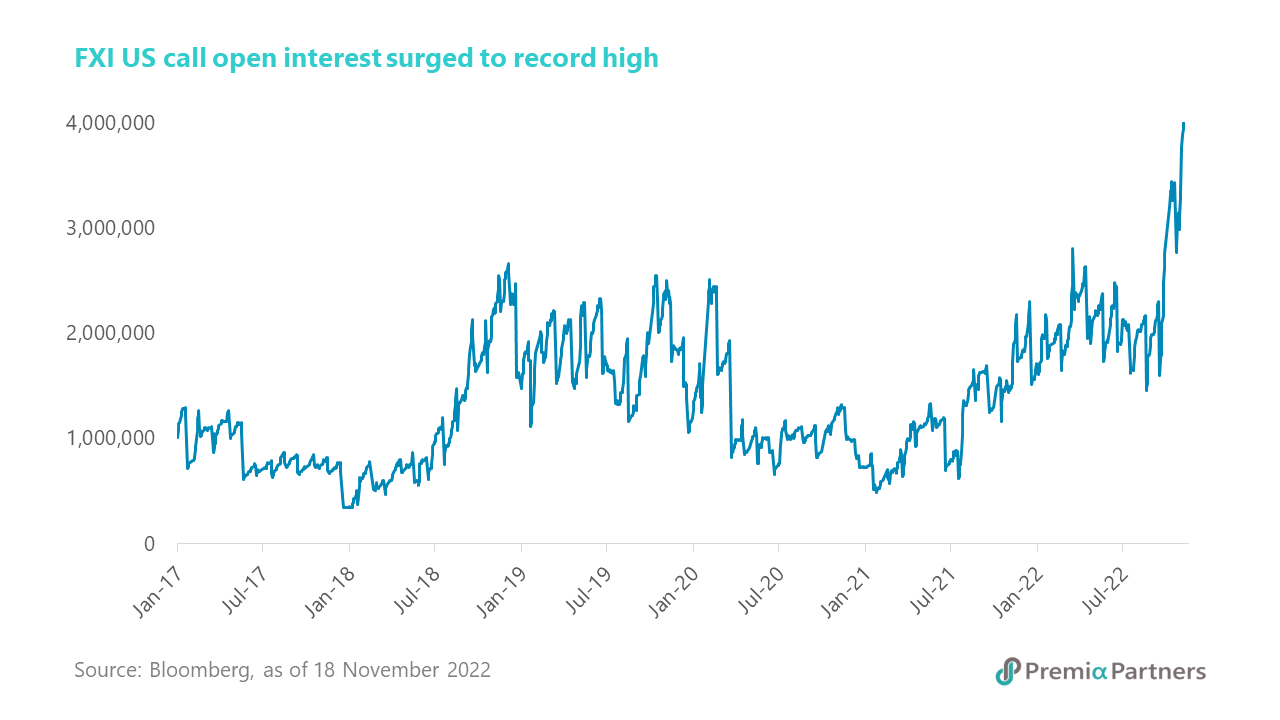 Investors are more optimistic about China's economy as more policies have been rolled out after the 20th National Congress, such as some supportive measures to the property sector and some relaxations on the COVID restrictions to reopen the economy. More recently, NDRC director He Lifeng, a potential candidate for succeeding Liu He, commented that the next stage of development will be centred around core technology and the digital economy and that China should lay out the infrastructure in advance to promote innovation and autonomy in those areas. Some onshore brokers think that may be a signal to ease the regulator crackdown on the internet and software industries. The gaining of investors' interests in China's stock market could be observed in the outstanding amount of call options in one of the largest A-shares ETFs listed in the US, FXI, which has shot up to an unprecedented level in 5 years. Premia Partners offers ETFs which have more precise exposure. Investors who would like to get exposure to the traditional sectors, such as Financials and Real Estate, may have a look at our Premia CSI Caixin China Bedrock Economy ETF. Those who would like to get exposure to the new economy sectors, such as Information Technology and Healthcare, may have a look at our Premia CSI Caixin China New Economy ETF.
---
Strong IPO market in onshore China
David Lai , CFA

Partner, Co-CIO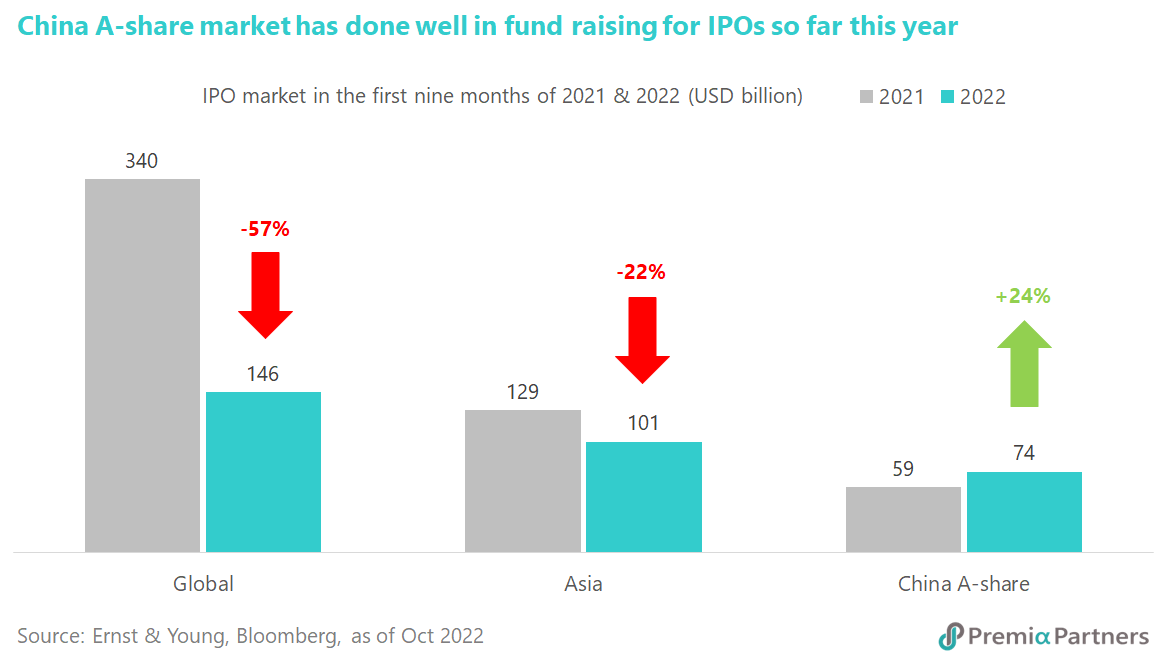 Increasing geopolitical risks, soaring inflation, interest rate hikes and recession threats have hurt investors' confidence, resulting in the year-on-year drop of 57% and 22% in global and Asian IPOs in the first three quarters this year. On the contrary, China's A-share IPO market activities bucked the trend, with 267 newly listed companies gathered a total of USD 74 billion that increased 24% year-on-year. More than two-third of the IPO fundings came from the STAR market and ChiNext board. The IPO proceeds raised in both Shanghai and Shenzhen accounted for over 50% of the global IPO market during the same period, highlighting the strong fund-raising capability of the A-share market. The dispute between the US and Chinese regulators over the accounting disclosure helped act as a catalyst.
---
China extends NEV purchase-tax waiver till end-2023
David Lai , CFA

Partner, Co-CIO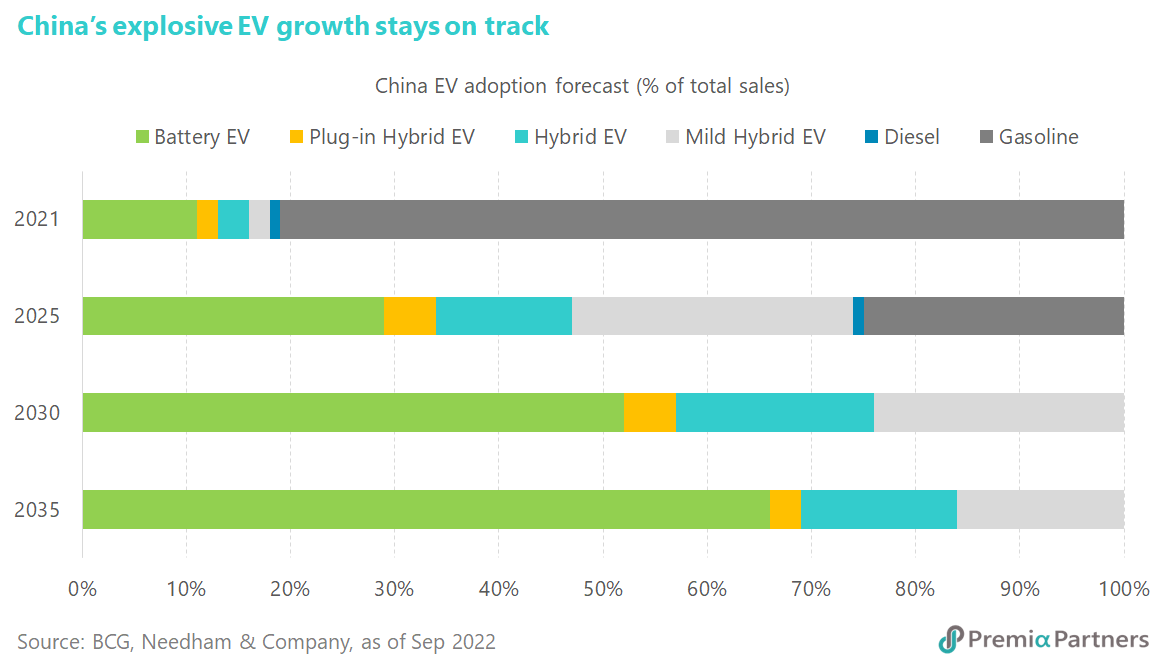 The National Development and Reform Commission reiterated that it is studying various policy measures to promote consumption to help support the economy. It pinpointed the new energy vehicles (NEVs) as one of the major focuses. The sales volume of NEVs were up 1.1 times YoY to 3.86 million units in the first eight months, accounting for 22.9% of all vehicle sales. In August, sales of battery EVs were 522,000, a 92% YoY increase, and plug-in hybrid sales grew by 160% to 144,000 YoY, while fuel cell vehicles reached 255,000 units, a 5.7 times YoY increase. Public charging stations increased 65% YoY to 1.6 million, of which 70% are located in the top 10 regions including Guangdong, Shanghai, Jiangsu, Beijing and Zhejiang, showing the current infrastructure is fairly concentrated. In August, the total charging consumption was 2.3 billion kwh, up 136% YoY. Analysts believe an expanding public charging outlets set the foundation for wider EV adoption.
---
China doubles down hardcore technology development
David Lai , CFA

Partner, Co-CIO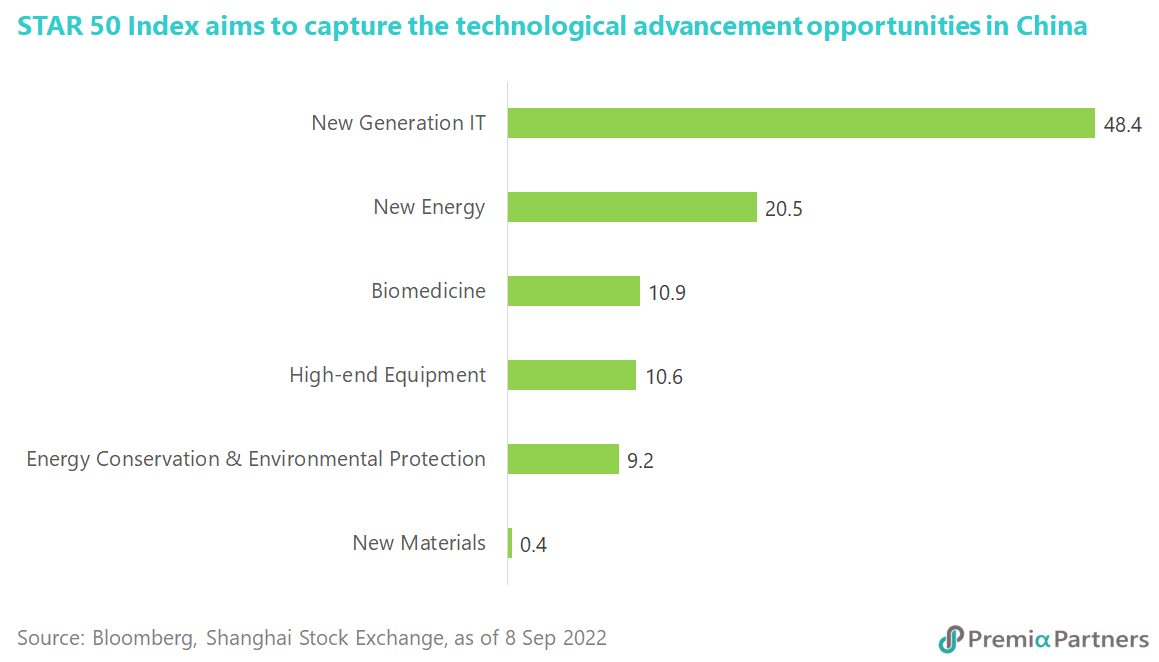 President Xi emphasized the country should strengthen its scientific and technological innovation during the latest meeting of the Central Comprehensively Deepening Reforms Commission. Analysts suggest that the state will play a more active role in driving the advancement in various aspects, such as semiconductor, artificial intelligence, biotech, renewables, and aerospace, etc. The key message is no different from what we have observed in the past few years that China is eager to fast-track the development in hardcore technologies. On a positive note, national champions are reporting a satisfactory progress. Baidu has revealed the achievement of its 2nd generation Kunlun chip, that runs 3 times faster than its predecessor and has a cost advantage over its peers aboard. Huawei has also launched the newest Mate 50 series mobile phone, equipped with a domestic operating system Harmony OS 3.0 and a satellite communication function leverage on BeiDou navigation system, an alternative to the GPS.
---
Indonesian equities outperformed peers globally
David Lai , CFA

Partner, Co-CIO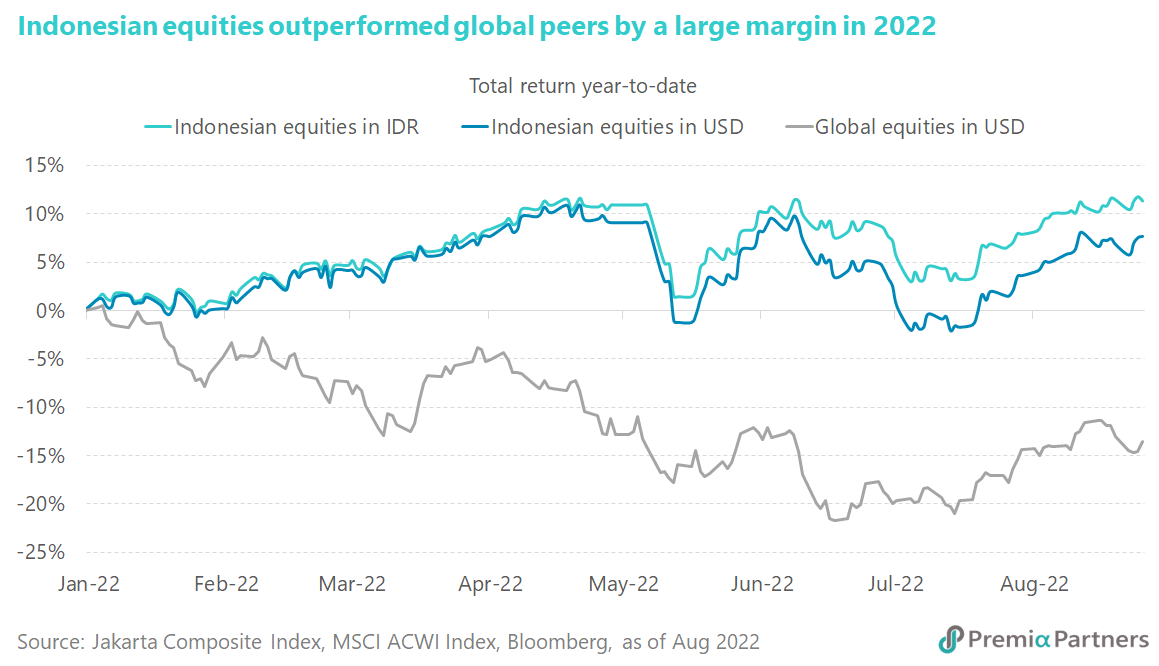 Bank Indonesia has been pushing its own version of Operation Twist via selling short-term notes and buying longer ones, expecting to help shore up the rupiah by bringing in foreign inflows. The yield spread between 5-year and 10-year government bonds has narrowed from 110 basis points at the end of June to the latest 46 basis points. The local currency shows initial success by strengthening 1.1% against the US dollar versus the bottom seen in late July. The central bank said the operation seems to be effective as an inflow of USD 1.4 billion poured into government bonds so far this month. Indonesia stock market is one of the best performers globally with a year-to-date return of 11.8% in rupiah, or 7.5% in dollar. Investors believe the rally may carry on due to the market's cyclical nature and the country's economic recovery. A stronger rupiah would be another catalyst for the foreigners investing in the Indonesian stocks.
---
Floating rate strategies take advantage of the rate hikes
David Lai , CFA

Partner, Co-CIO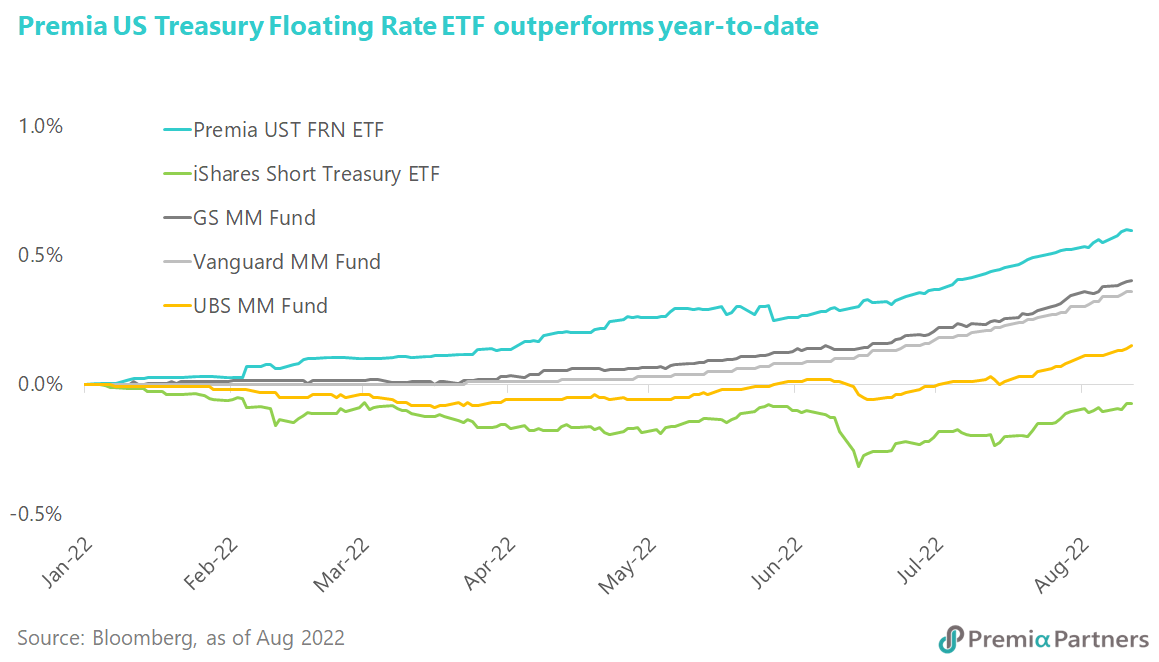 Contrary to many USD bond strategies that have been subject to heightened volatilities and have been marked down amid rising interest rates and inflation, TIPS and floating rate strategies with built in rate reset mechanism are instead well placed to take advantage of the rate hikes. This includes our Premia US Treasury Floating Rate ETF (9077.HK) which has been very well placed as both an ultra-short duration US Treasury strategy, and a cash management tool without lock up period that outperforms mainstream money market funds in this rising rate environment. During the current rising rate environment, ETF is able to take advantage of the rate hikes earlier at each weekly reset – and the YTM has also quickly rose to now over 2.5%. This HKEX listed ETF is built for non-US investors looking for cash management or ultra short duration US Treasury tools with no US withholding tax or estate tax. HKEX stamp duty, trading tariff and settlement fees are also waived.
---
Vietnam stocks are on sale
David Lai , CFA

Partner, Co-CIO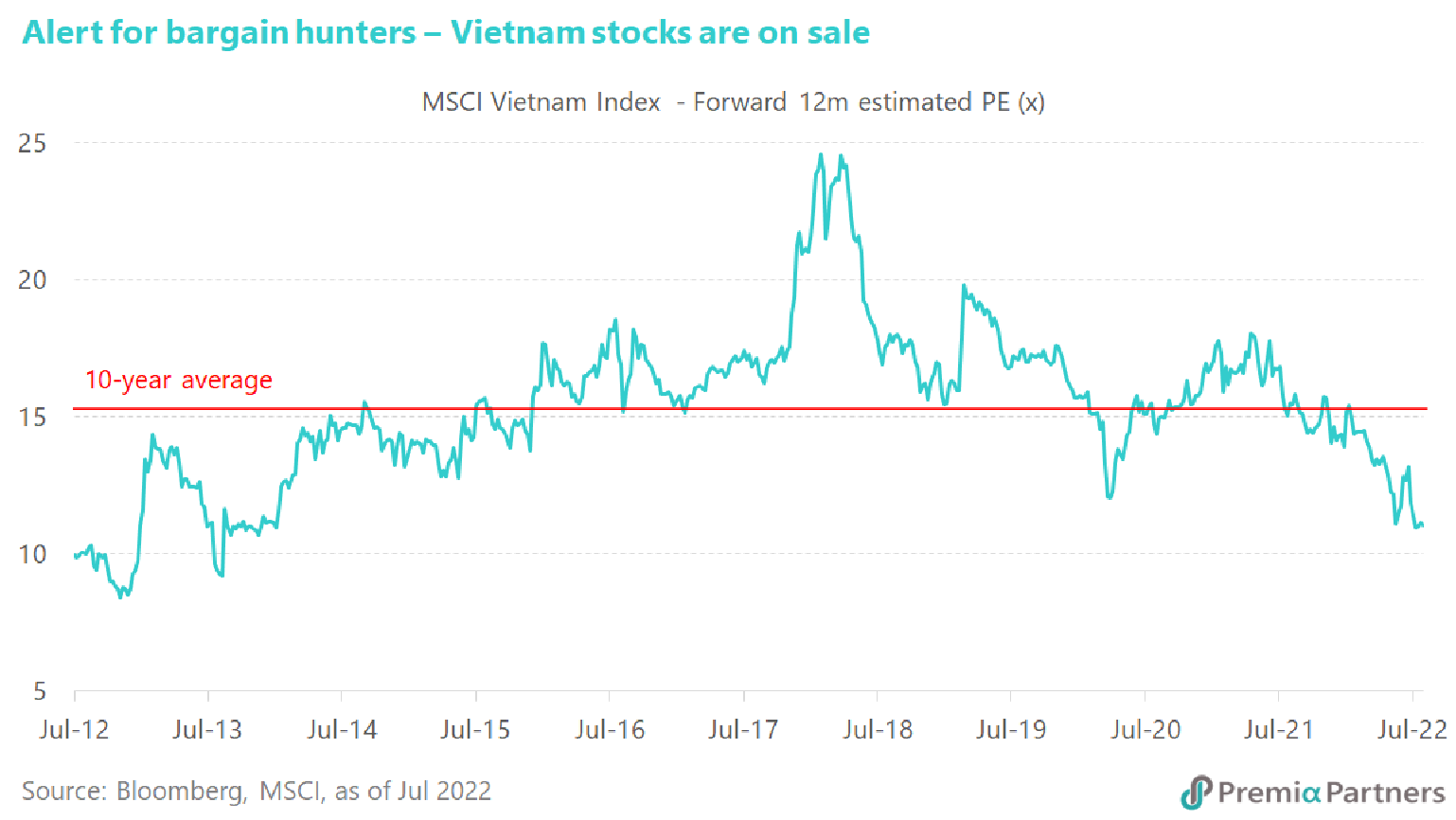 Vietnam market is now trading at an attractive valuation that has never been seen since 2013. The forward 12-month estimated PE of MSCI Vietnam Index (NTR) is only 11x, versus the 10-year average of 15.3x. The current bearish sentiment is largely driven by the anti-corruption campaign. Simultaneously the government is continuing to implement its Stock Market Restructuring Project, which attempts to create a transparent and competitive capital market environment equipped with a better legal system. These tough but important efforts will eventually help Vietnam become a stronger and sustainable market for foreign investors. Fundamentally, Vietnam economy has been doing well, with its GDP expanding 7.7% in Q2 and 5.1% in Q1 this year. The S&P Global Ratings recently raised its long-term sovereign credit rating on Vietnam to "BB" with a "stable" outlook. Investors who like bargain hunting should pay close attention to Premia MSCI Vietnam ETF (2804.HK), which invests in a basket of 28 leading Vietnamese companies.
---
China yield curve steepening? Yields for long and ultra long Chinese government bonds remain stable with downward bias
David Lai , CFA

Partner, Co-CIO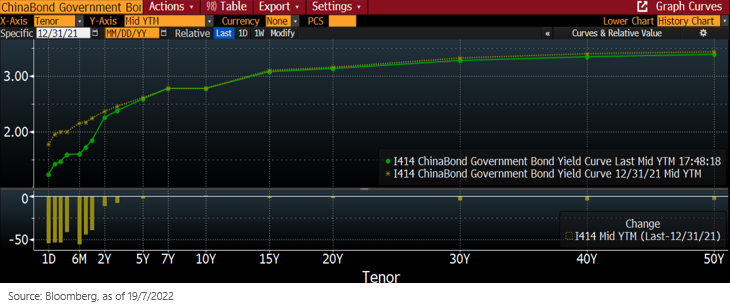 China's government bond yield curve has been steepening so far this year with the short-end comes down substantially due to the liquidity boost by the PBOC. Intuitively, investors reading the generalized headlines may worry if the change in yield curve would create much higher risk in holding the long-end. Reading into the fine prints however, one may find the concern less valid as the yields of the long and ultra long-duration bonds have been holding up quite steadily with downward bias. For example, the 30-year bond yield only fell by 6 basis points while the 50-year bond yield dropped by 4 basis points. Currently the long and ultra long duration segment that our Premia China Treasury and Policy Bank Bond Long Duration ETF invests in should be the sweet spot of global investors, by offering an absolute higher yield whilst facing low volatility. To offer more optionality, we shall be adding a USD hedged share class in addition. This would help eliminate the exchange risk on renminbi for investors who would like to take advantage of the attractive yield, lower market to market risk and yield volatility of the long and ultra long duration Chinese government bonds, while removing exposure for the FX.
---
Asia dominates the expansion in semiconductor capacity
David Lai , CFA

Partner, Co-CIO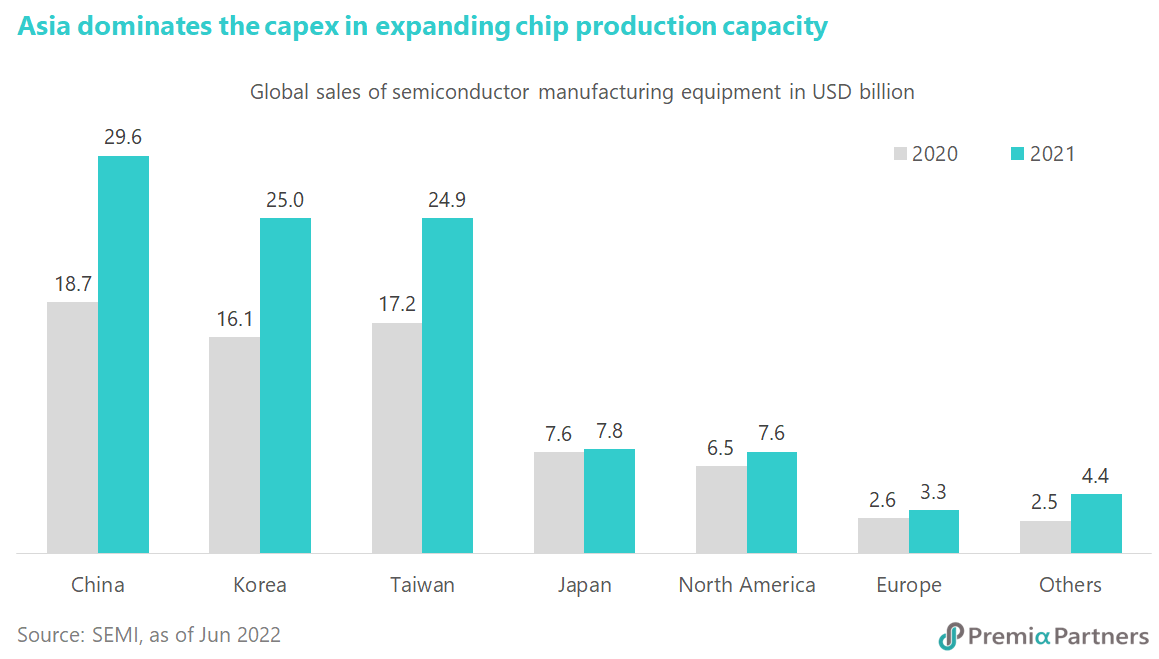 International Data Corporation forecasts the worldwide semiconductor revenue to reach USD 661 billion in 2022, up 13.7% year-on-year following strong 2021 results where revenues reached USD 582 billion. Leading growth applications were 5G phones, game consoles, wireless access points, datacenters and wearables. Industry specialists expect these applications to continue growing this year, so the imbalance between demand and supply may not be fully resolved until mid-2023. That explains the aggressive capacity addition among chip producers, including TSMC, Samsung, and Hynix. The global sales of semiconductor manufacturing equipment surged 44% to USD 103 billion in 2021, with China topped the league, followed by South Korea, Taiwan and Japan. Premia China STAR50 ETF (3151.HK) has close to ~35% weighted exposure investing in semiconductor related stocks.
---
The unique appeal of low volatility in long duration Chinese government bonds as rate hikes get rough
David Lai , CFA

Partner, Co-CIO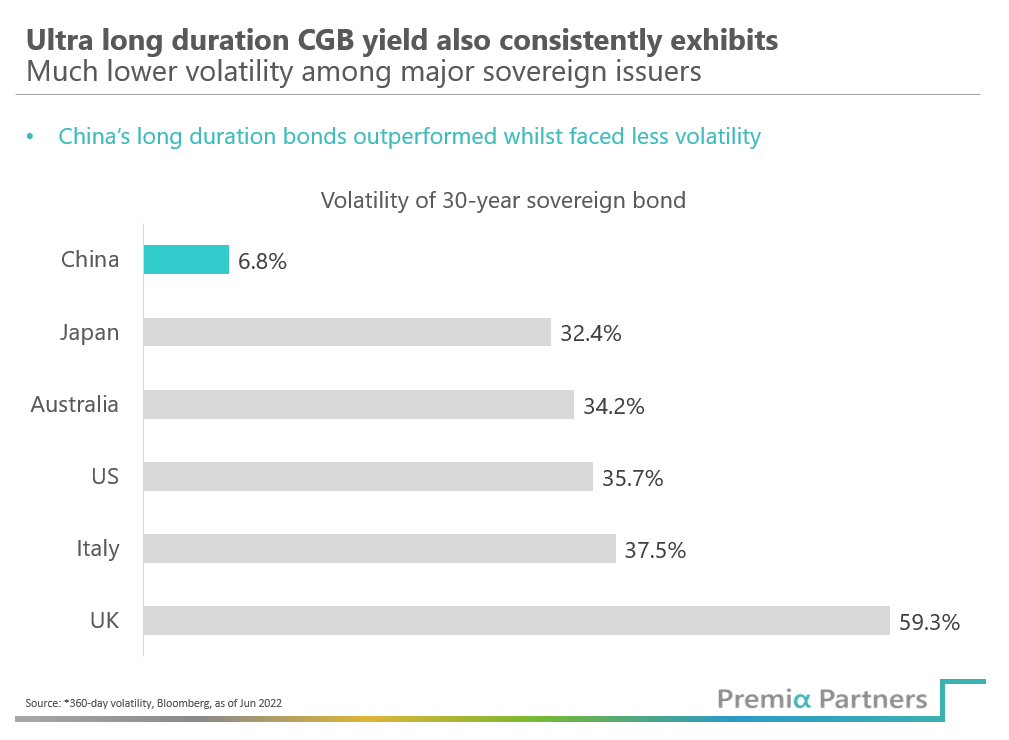 China government bonds have outperformed all major sovereign bonds year-to-date due to the PBOC's easing monetary policy. Unlike most central banks are accelerating their rate hike cycles to cope with the rising inflation pressure, China is able to cut benchmark rates as its latest core CPI has even dropped from 1.1% to 0.9%. That explains the drastic difference in performance and the volatility among the ultra-long duration sovereign bonds, which usually are the most sensitive to any rate changes. If measuring the 360-day volatility, China 30-year government bonds show a 360-day volatility of 6.8%, the lowest as compared to its peers such as the US treasuries' 35.7%, UK gilts' 59.3%, and Japan government bonds' 32.4%. As renminbi depreciation pressure has eased dramatically since mid-May, investors may consider increasing exposure of Premia China Treasury and Policy Bank Bond Long Duration ETF (2817.HK) to earn an attractive yield and capture a potential capital gain on further loosening expectation.