Chart of the Week
---
Vietnam stocks are on sale
David Lai , CFA

Partner, Co-CIO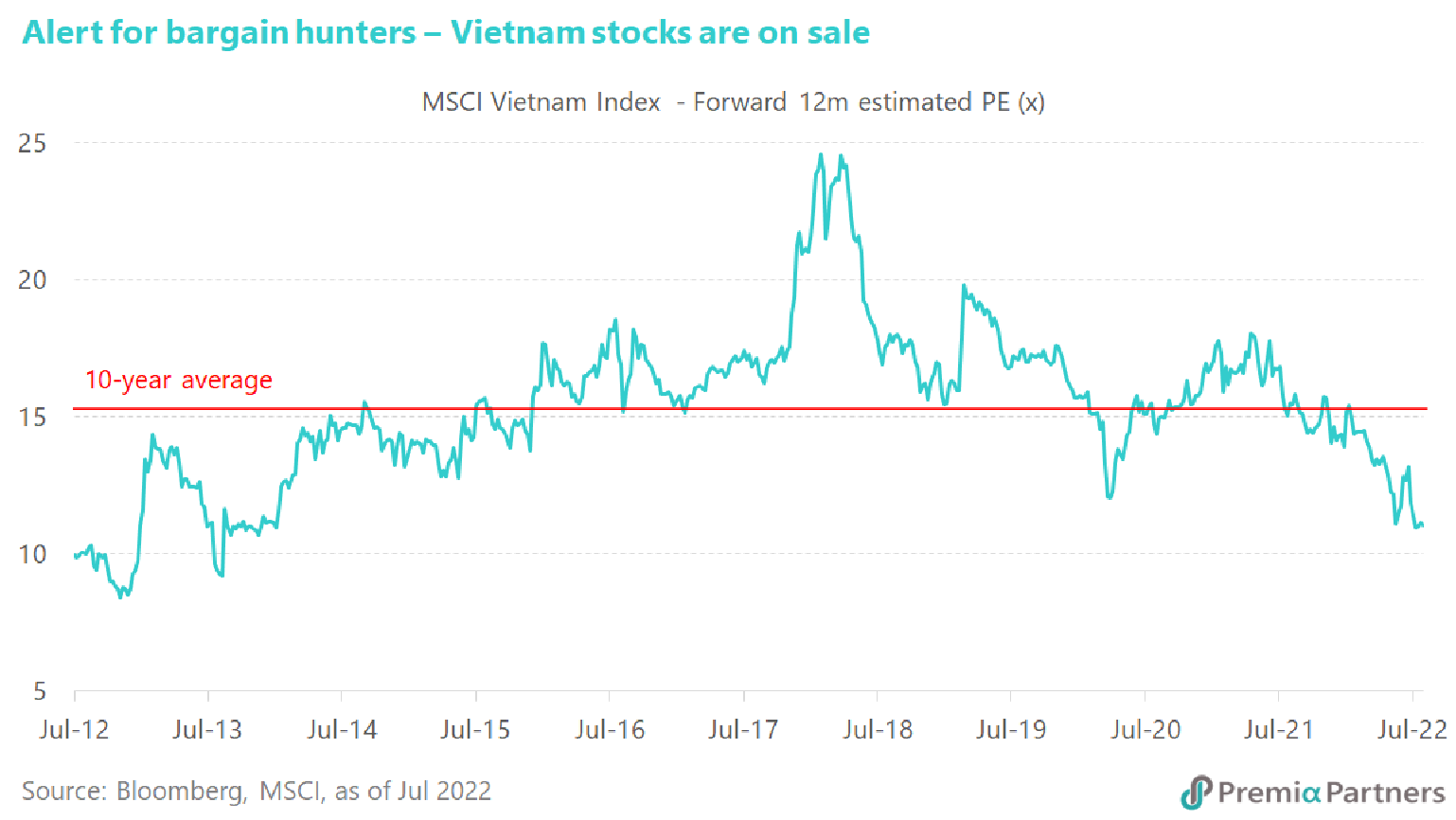 Vietnam market is now trading at an attractive valuation that has never been seen since 2013. The forward 12-month estimated PE of MSCI Vietnam Index (NTR) is only 11x, versus the 10-year average of 15.3x. The current bearish sentiment is largely driven by the anti-corruption campaign. Simultaneously the government is continuing to implement its Stock Market Restructuring Project, which attempts to create a transparent and competitive capital market environment equipped with a better legal system. These tough but important efforts will eventually help Vietnam become a stronger and sustainable market for foreign investors. Fundamentally, Vietnam economy has been doing well, with its GDP expanding 7.7% in Q2 and 5.1% in Q1 this year. The S&P Global Ratings recently raised its long-term sovereign credit rating on Vietnam to "BB" with a "stable" outlook. Investors who like bargain hunting should pay close attention to Premia MSCI Vietnam ETF (2804.HK), which invests in a basket of 28 leading Vietnamese companies.
---
China yield curve steepening? Yields for long and ultra long Chinese government bonds remain stable with downward bias
David Lai , CFA

Partner, Co-CIO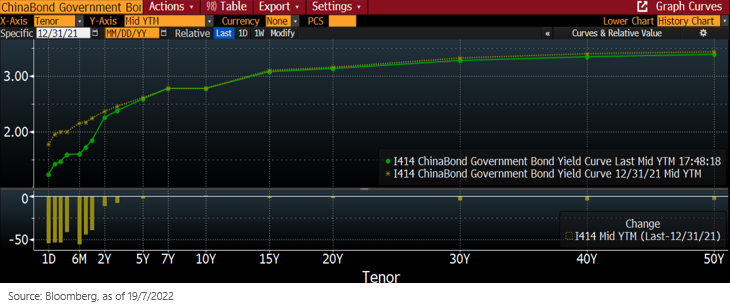 China's government bond yield curve has been steepening so far this year with the short-end comes down substantially due to the liquidity boost by the PBOC. Intuitively, investors reading the generalized headlines may worry if the change in yield curve would create much higher risk in holding the long-end. Reading into the fine prints however, one may find the concern less valid as the yields of the long and ultra long-duration bonds have been holding up quite steadily with downward bias. For example, the 30-year bond yield only fell by 6 basis points while the 50-year bond yield dropped by 4 basis points. Currently the long and ultra long duration segment that our Premia China Treasury and Policy Bank Bond Long Duration ETF invests in should be the sweet spot of global investors, by offering an absolute higher yield whilst facing low volatility. To offer more optionality, we shall be adding a USD hedged share class in addition. This would help eliminate the exchange risk on renminbi for investors who would like to take advantage of the attractive yield, lower market to market risk and yield volatility of the long and ultra long duration Chinese government bonds, while removing exposure for the FX.
---
Asia dominates the expansion in semiconductor capacity
David Lai , CFA

Partner, Co-CIO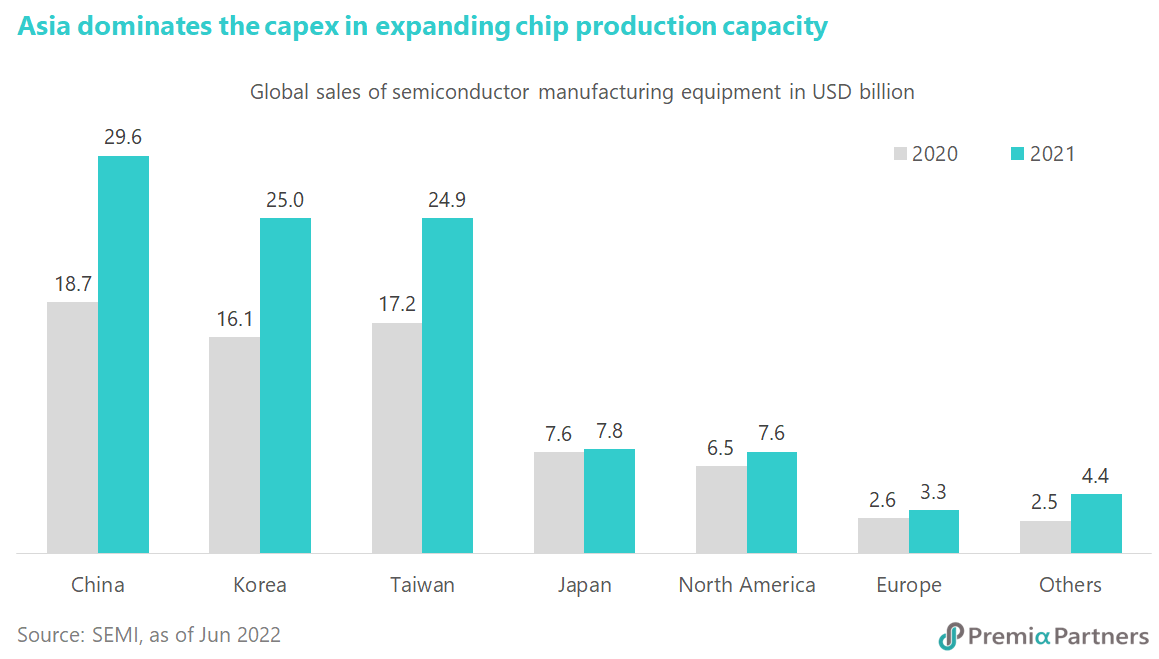 International Data Corporation forecasts the worldwide semiconductor revenue to reach USD 661 billion in 2022, up 13.7% year-on-year following strong 2021 results where revenues reached USD 582 billion. Leading growth applications were 5G phones, game consoles, wireless access points, datacenters and wearables. Industry specialists expect these applications to continue growing this year, so the imbalance between demand and supply may not be fully resolved until mid-2023. That explains the aggressive capacity addition among chip producers, including TSMC, Samsung, and Hynix. The global sales of semiconductor manufacturing equipment surged 44% to USD 103 billion in 2021, with China topped the league, followed by South Korea, Taiwan and Japan. Premia China STAR50 ETF (3151.HK) has close to ~35% weighted exposure investing in semiconductor related stocks.
---
The unique appeal of low volatility in long duration Chinese government bonds as rate hikes get rough
David Lai , CFA

Partner, Co-CIO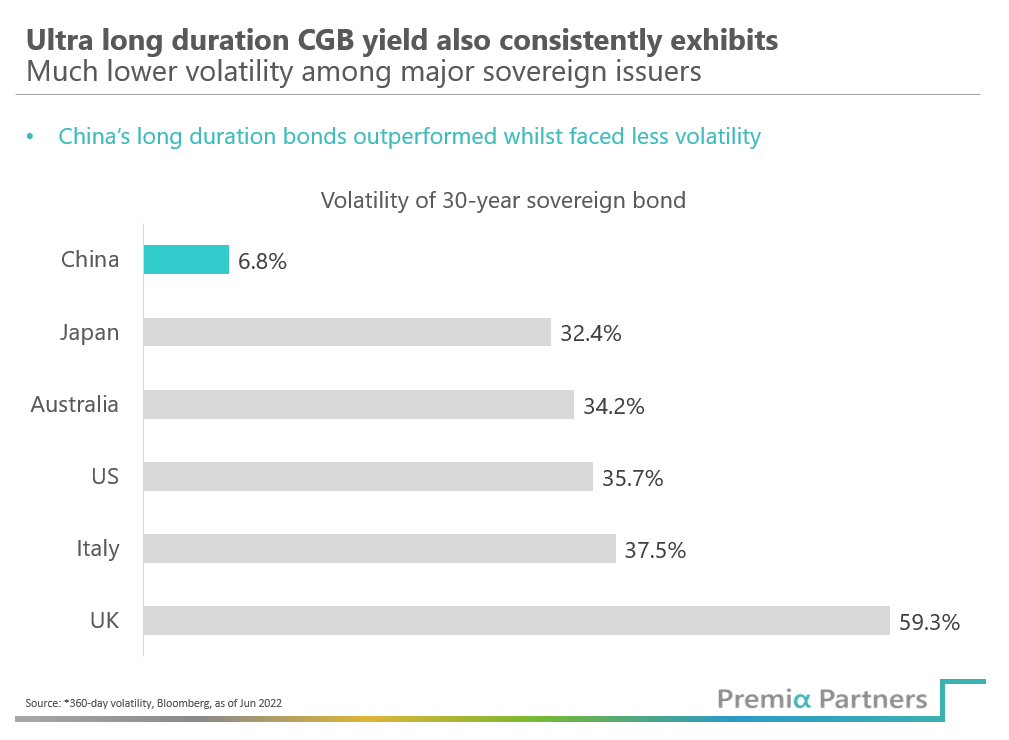 China government bonds have outperformed all major sovereign bonds year-to-date due to the PBOC's easing monetary policy. Unlike most central banks are accelerating their rate hike cycles to cope with the rising inflation pressure, China is able to cut benchmark rates as its latest core CPI has even dropped from 1.1% to 0.9%. That explains the drastic difference in performance and the volatility among the ultra-long duration sovereign bonds, which usually are the most sensitive to any rate changes. If measuring the 360-day volatility, China 30-year government bonds show a 360-day volatility of 6.8%, the lowest as compared to its peers such as the US treasuries' 35.7%, UK gilts' 59.3%, and Japan government bonds' 32.4%. As renminbi depreciation pressure has eased dramatically since mid-May, investors may consider increasing exposure of Premia China Treasury and Policy Bank Bond Long Duration ETF (2817.HK) to earn an attractive yield and capture a potential capital gain on further loosening expectation.
---
Renminbi's depreciation pressure eased since mid-May
David Lai , CFA

Partner, Co-CIO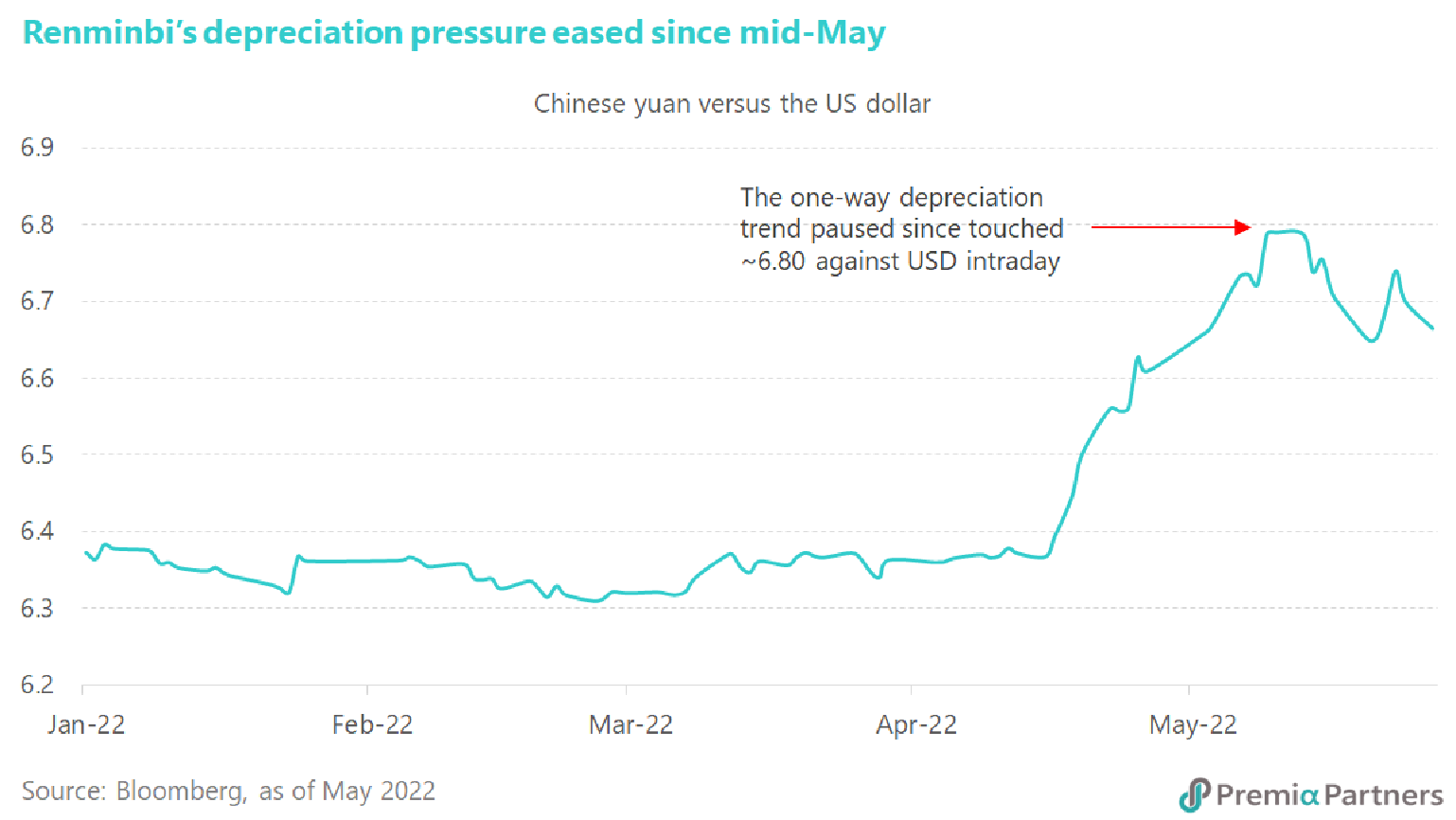 The depreciating pressure of Chinese yuan has eased once touched the level of 6.80 against the US dollar. The Chinese government has stabilized the currency with stronger fixings and a reduction in foreign-exchange reserve requirements. On the domestic side, the improved prospects for an end to Shanghai's lockdown has helped the currency stop the downtrend. The 33 new stimulus measures introduced by the State Council should support business activities recovery and drive consumer spending. Externally, the softening dollar movement amid the confirmed peaking of the US inflation is beneficial to the Chinese yuan. The market also sees potential diminishing tensions between China and the US after President Biden said he is considering removing some of the tariffs and would discuss the details with Treasury Secretary Yellen upon return from his Asia trip.
---
Vietnam stocks at a deep discount
David Lai , CFA

Partner, Co-CIO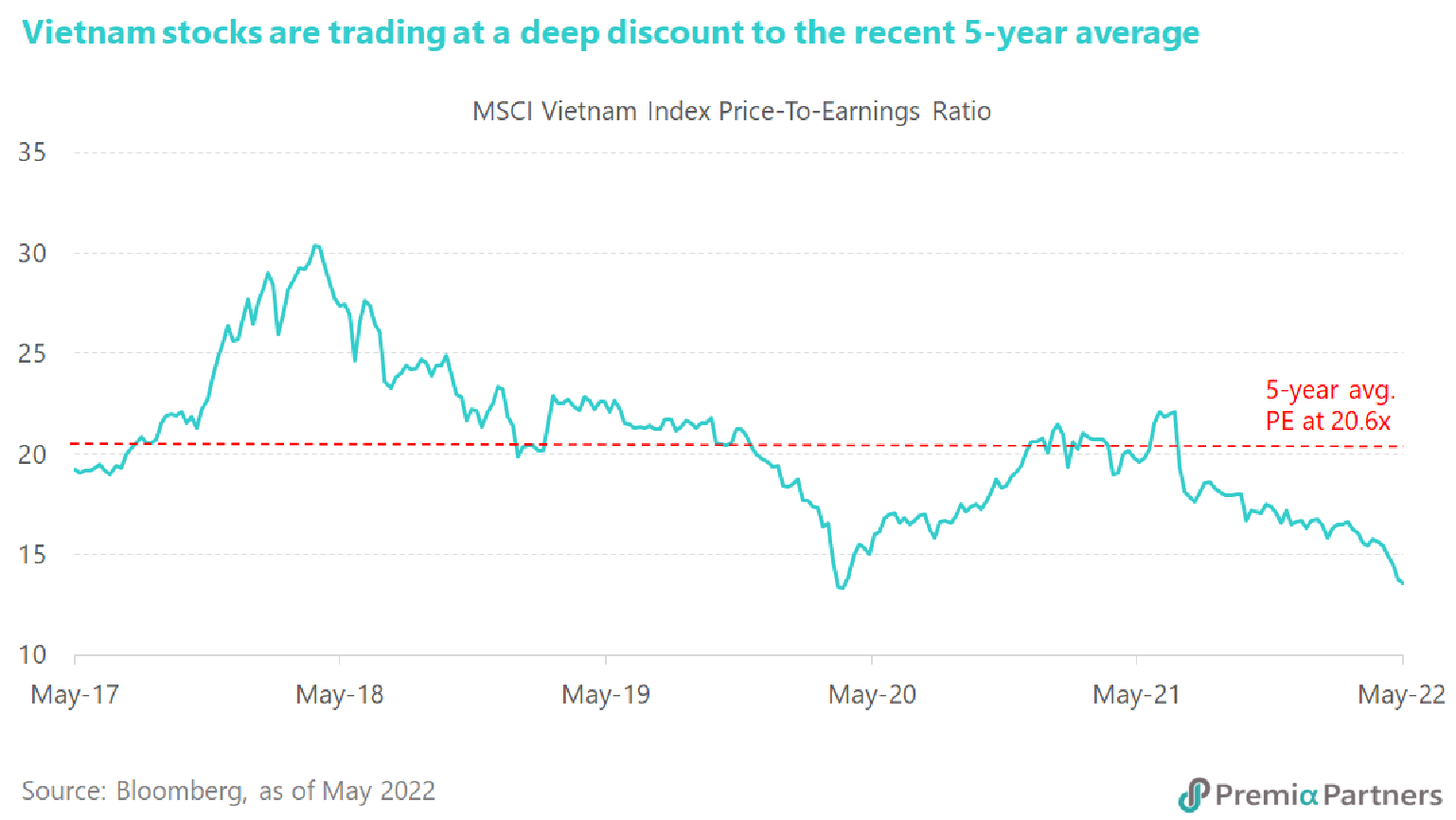 Vietnam stocks have fallen behind in share performance versus its regional peers amid margin calls on highly leveraged positioning and investigations related to irregular activities in the capital market. Tri Viet Securities CEO and Louis Holdings Chairman have become the latest in a string of Vietnamese executives to be detained by policy, accused of allegedly manipulating stock prices. These cleanups could be bitter pills that may have a blessed effect in medium term. The fundamentals of Vietnam have been improving with increased domestic mobility, inbound tourist inflows and accelerated industrial production. Valuation-wise, MSCI Vietnam Index is trading at an attractive historical PE level of 13.6x versus a 5-year average of 20.6x. Investors may take advantage of the current market discount to gain exposure of Vietnam via Premia MSCI Vietnam ETF (2804.HK).
---
US unemployment rate vs 10Y-2Y US Treasury yield curve
Simon Say Boon Lim

Senior Advisor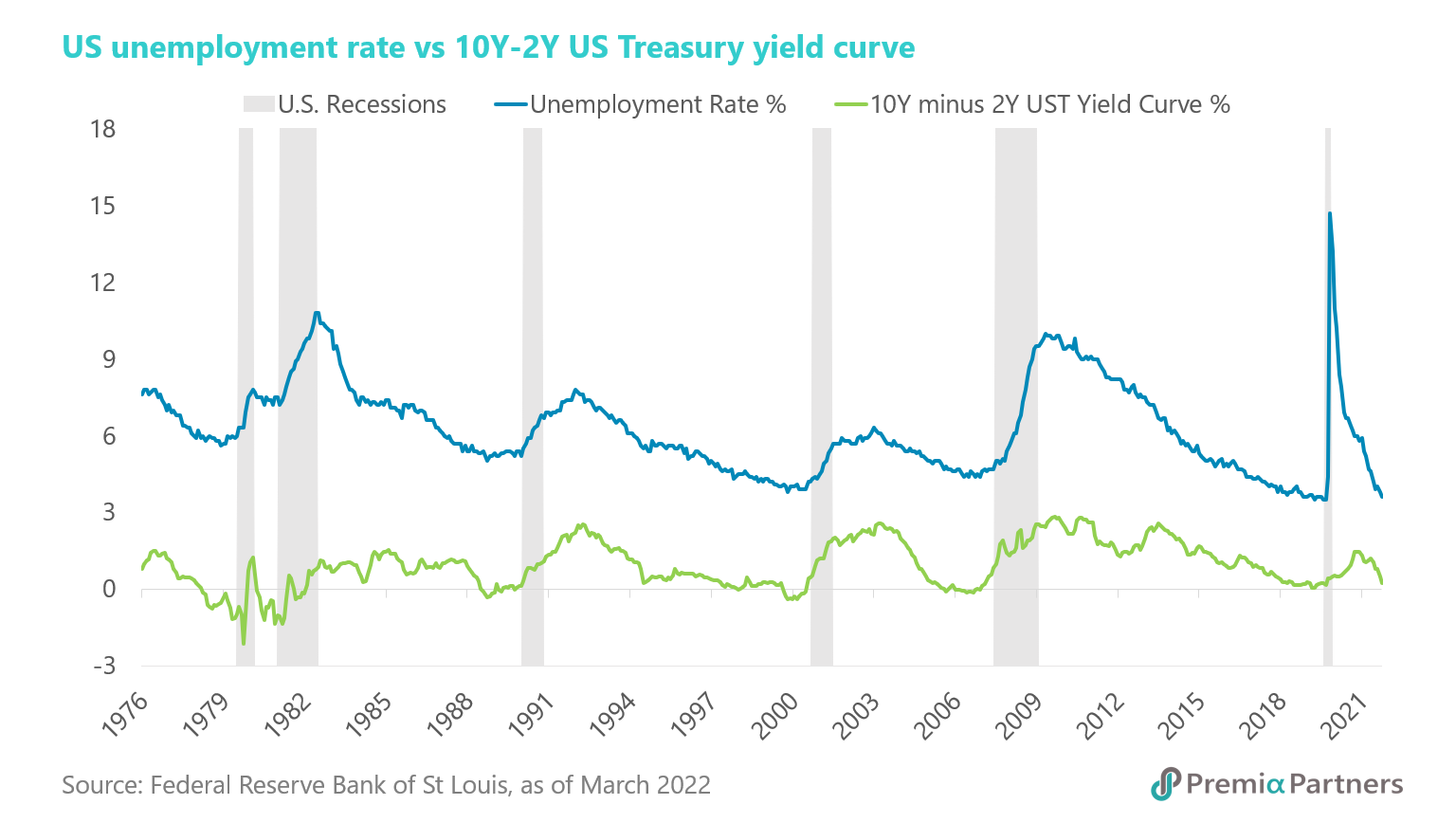 While the economic data for US jobs are "red hot", this is a double-edged sword at a time of rising inflation and plunging consumer confidence. That is, it feeds into inflation via wage rises. Inflation also eats into real wages, damaging consumer confidence. So, last week, US non-farm payrolls added 431,000 jobs in March. That was a robust figure but it was down from 750,000 in February, and lower than the January figure of 504,000. The unemployment rate continued to decline to 3.6% in March, from 3.8% in February and the peak of 14.7% in April 2020. Yet, the cost was rising average hourly earnings, which was 5.6% higher YoY in March, up from 5.2% for February and continuing the uptrend from April 2020.
On the surface this appears bullish for the economy. So, how does that fit into the Conference Board's expectations of much slower economic growth? A worrying tendency is that lows in the US unemployment rate have coincided with flattening or inversion of the 10Y-2Y US Treasury yield curve, and recession 1-2 years after that. In short, this may be as good as it gets.
---
Indonesia stocks reached a new high
David Lai , CFA

Partner, Co-CIO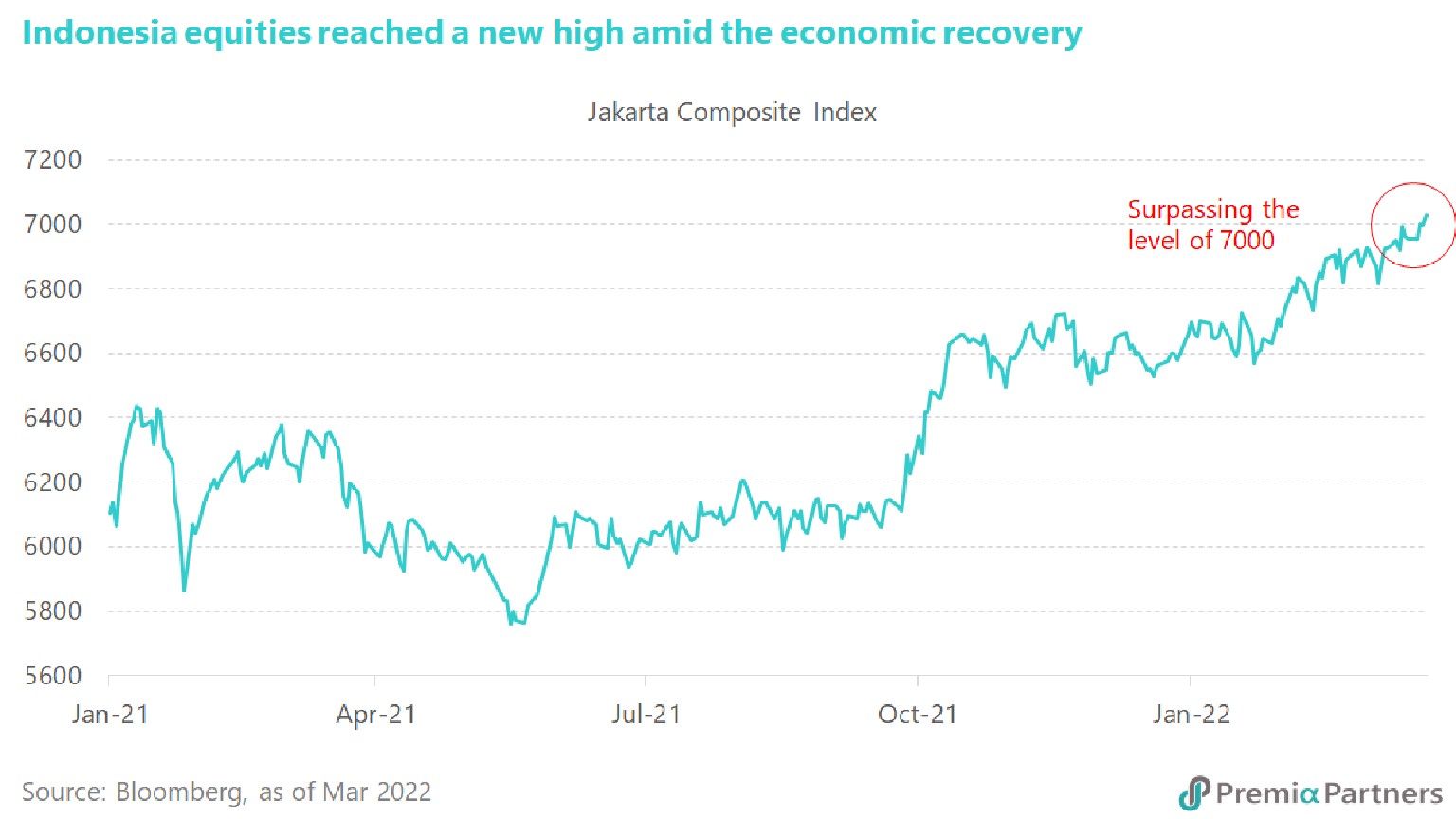 Indonesia equities kept reaching new highs, with Jakarta Composite Index once surpassing the 7,000-point psychological barrier. Analysts see further room to go up as business continues to recover on reopening. Indonesia is lifting all quarantine rules for international travelers to end two years of border closure, following its neighbors to ease restrictions as Southeast Asia moves past the worst of the omicron wave. The daily infection cases have fallen significantly to roughly one-tenth of the peak seen in mid-February. The International Monetary Fund expects the country will grow 5.4% this year and 6% in 2023, supported by favorable global commodity prices, easing virus curbs and rising public mobility. The government's decision in restoring budget deficit cap of 3% of GDP next year will bolster the credibility and sustainability of the fiscal framework.
---
A-shares have seen less volatility versus H-shares & China ADRs
David Lai , CFA

Partner, Co-CIO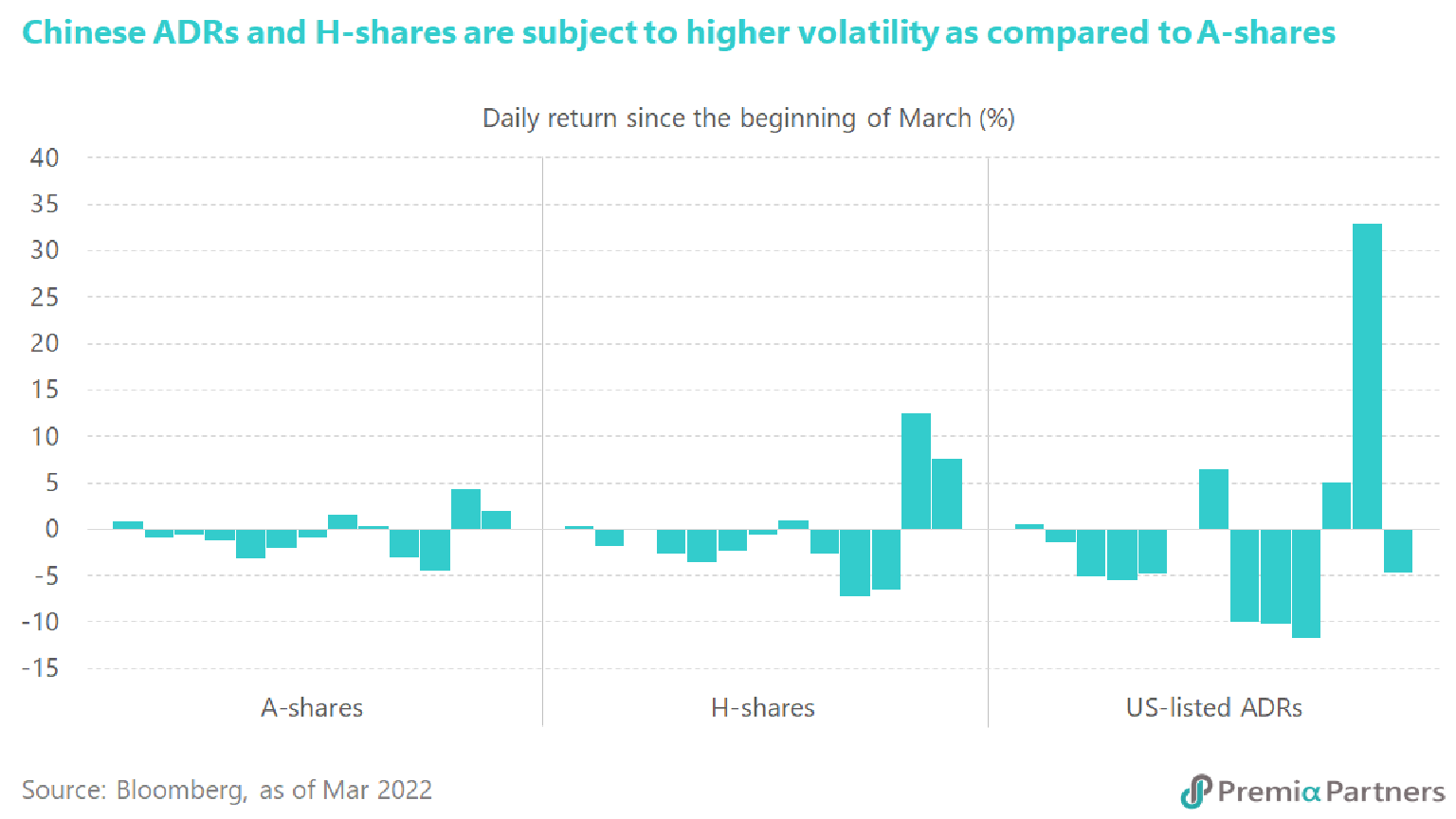 China markets have witnessed both capitulation and euphoria lately. Sentiment first swung to extremely bearish, almost suggesting China is getting into the World War III and all China-related assets will markdown to zero. Then the positive signals released by the Chinese government helped investors realize the fact that the world is not ending whilst China equity is way oversold. Both short-squeeze and bargain hunting have triggered the strongest rally since the financial crisis a decade ago. Fundamentally, China's economy has done reasonably well in the first two months this year, with industrial output, retail sales, fixed asset investment and exports up 7.5%, 6.7%, 12.2% and 13.6% respectively. Policy-wise, PBOC, CBIRC and CSRC have jointly reaffirmed to maintain the stable development of the capital market. Interestingly, A-shares are seeing lower volatility as compared to their peers listed in Hong Kong and the US.
---
China Bedrock Economy ETF helps capture the surging commodity prices
David Lai , CFA

Partner, Co-CIO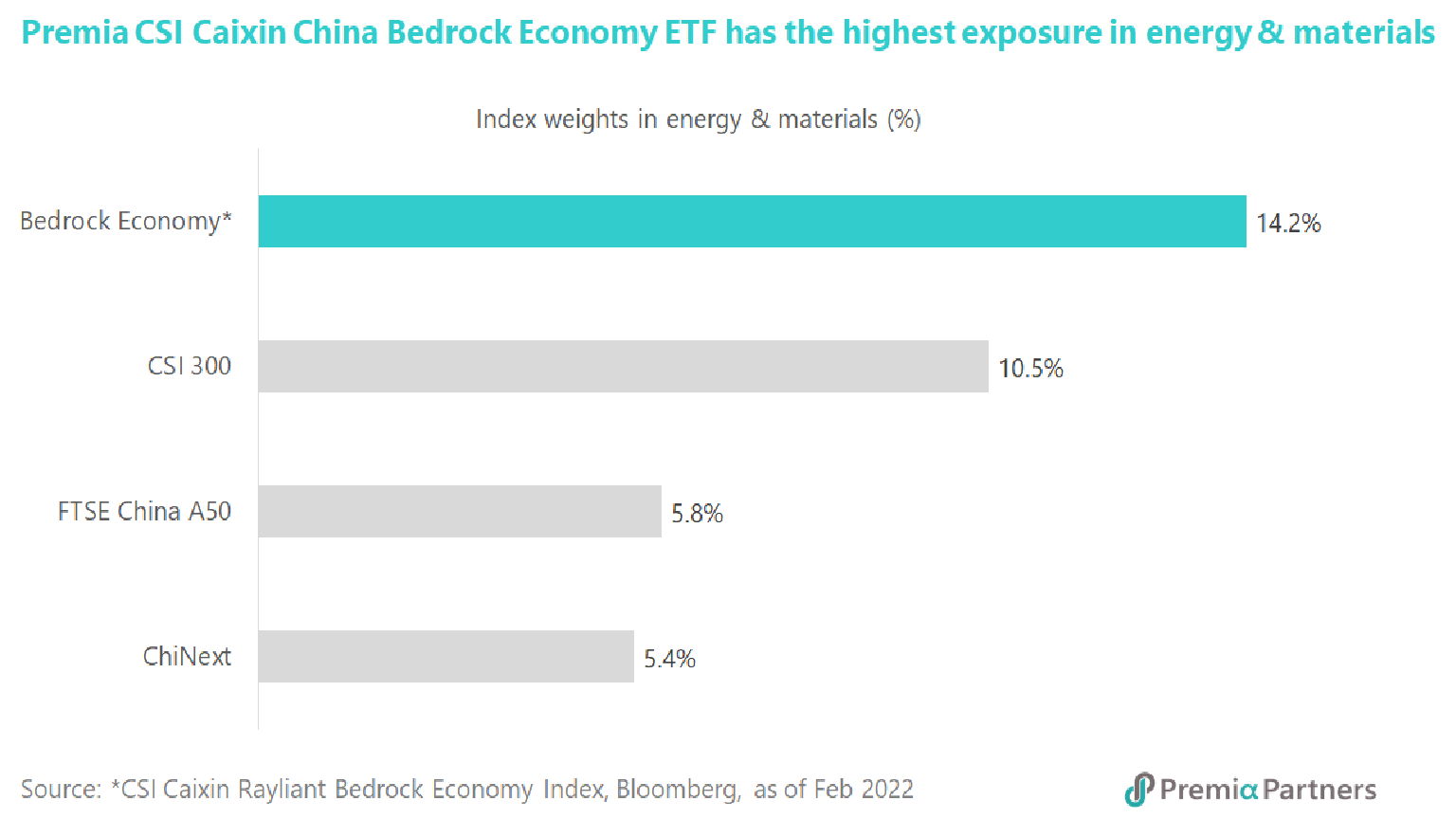 Oil's surge toward USD 100 a barrel for the first time since 2014 is threatening to deal a double-blow to the world economy by further denting growth prospects and driving up inflation. Indeed, the pricing pressure has been escalating in most developed markets such as the US and UK. Although China does not face the same inflationary environment with its latest CPI lowering to 0.9%, the country still has to import close to 70% of oil and natural gas on a daily basis. The strengthening commodity price began to reflect in the onshore A-share market as energy stocks topped the sector performance year-to-date, recording a positive double-digit return. Brokers including Goldman Sachs and Citi see commodities as the top pick among asset classes in 2022, highlighting the case for oil and gold as hedges for geopolitical risks. Premia CSI Caixin China Bedrock Economy ETF (2803.HK) may help capture the opportunity as its underlying index has a higher exposure in energy and materials sector as compared to CSI 300 index and FTSE China A50 index.